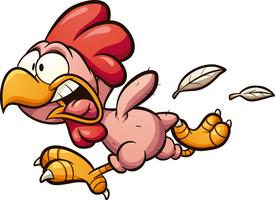 Nope you didn't miss anything … I have skipped a few blog posts. But a wise artist once told me that we have to bend "when life gets in the way" so here is what has been keeping me so busy.
Last time I wrote I was on my way to New York, fondly remembering how I almost died… ah, fun times… fun times. I am Happy to say there was no near-death experience this time! Although we did go to a Magic show (my son loves magic) and what was challenging me on the menu?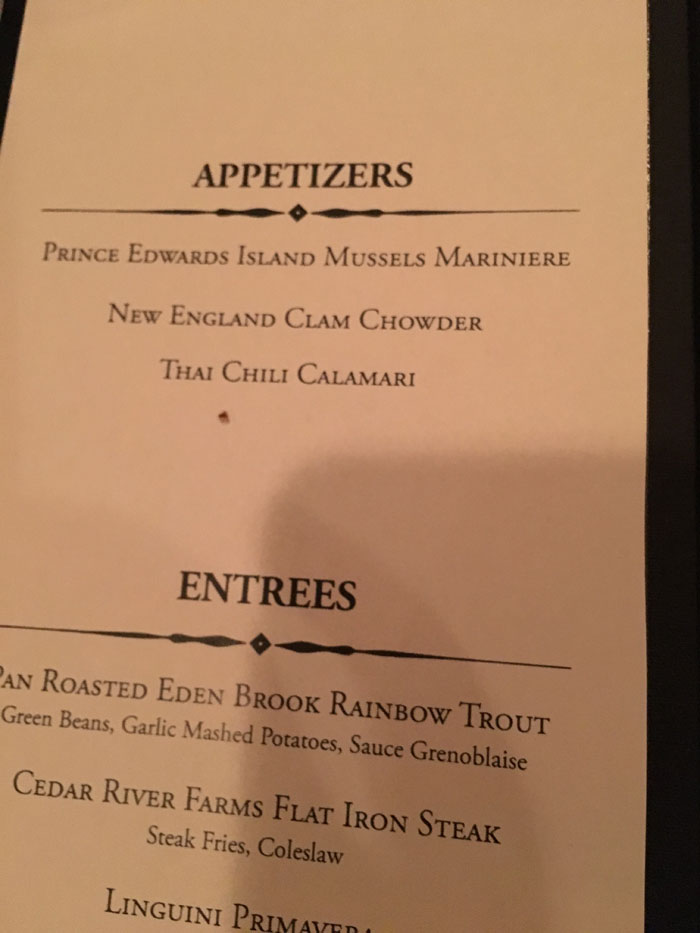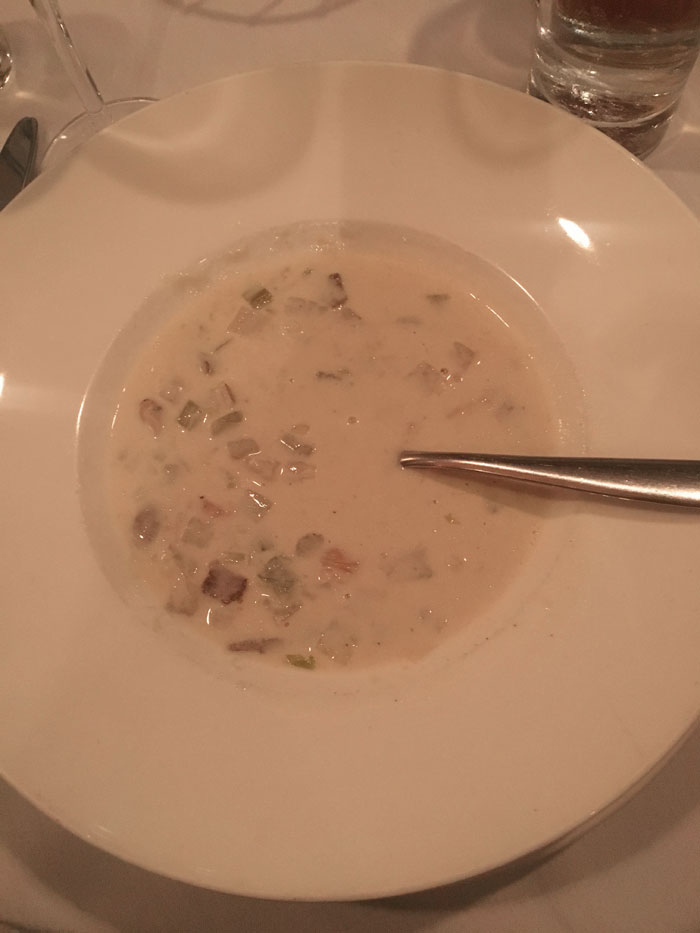 Yup! Clam chowder!!! So yeah, I had to order it and I was a good girl, chewed well and didn't die!
My son and I survived the Megabus and he was the darling of the PSA Materials Arts Fair and Awards Ceremony. I can't even count how many artists commented on how they knew his "ears" so well from his "tub" portrait. At one point we were walking up the grand staircase to the Awards Ceremony and a bunch of artists broke out into applause for him– for doing such a good job at sitting under a bright light for hours while I painted him and for graciously putting up with all the praise and hugs from strangers that exclaimed they knew him. (Hope he won't need too much therapy) Braeden then shared his love of magic card tricks with many artists including here with Richard Mckinley, President of IAPS and Past-Prez, Liz Heywood-Sullivan.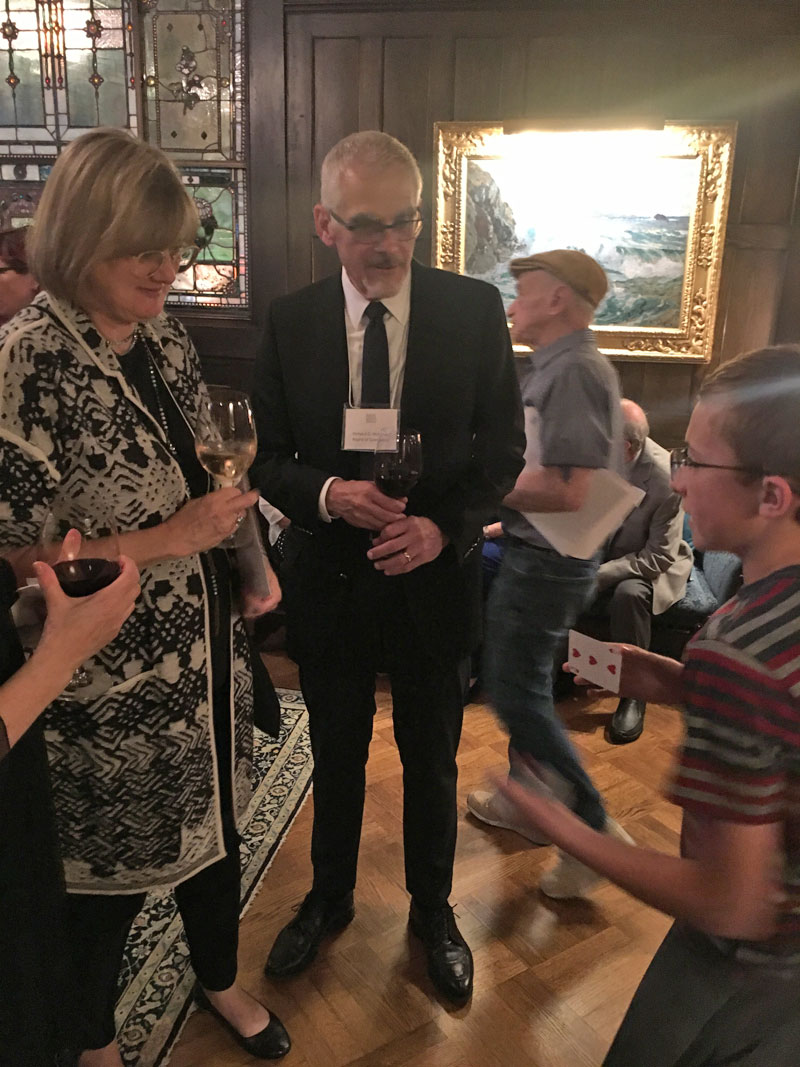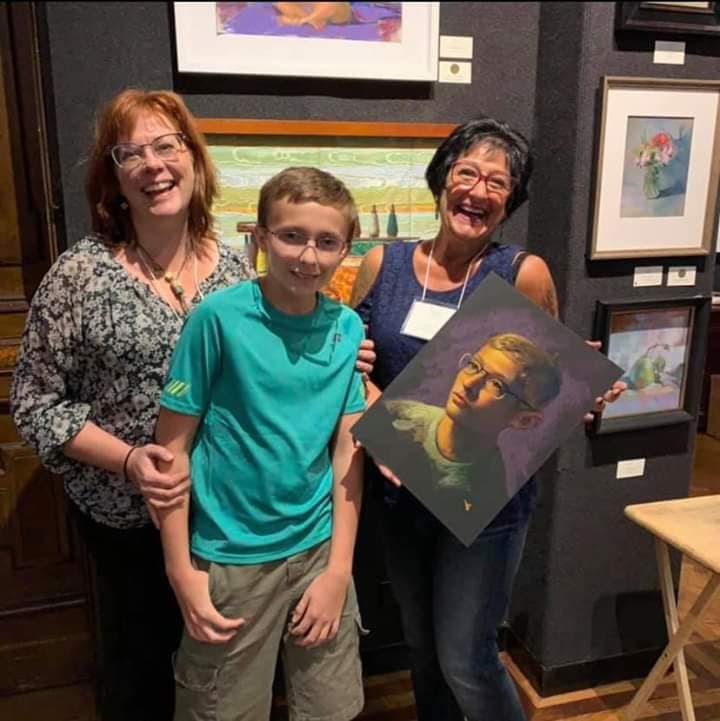 We then gave his portrait to Arlene Thek who tirelessly helps to coordinate and promote the event and fed us a hearty, New York deli lunch. It was a memorable son and mom weekend for sure.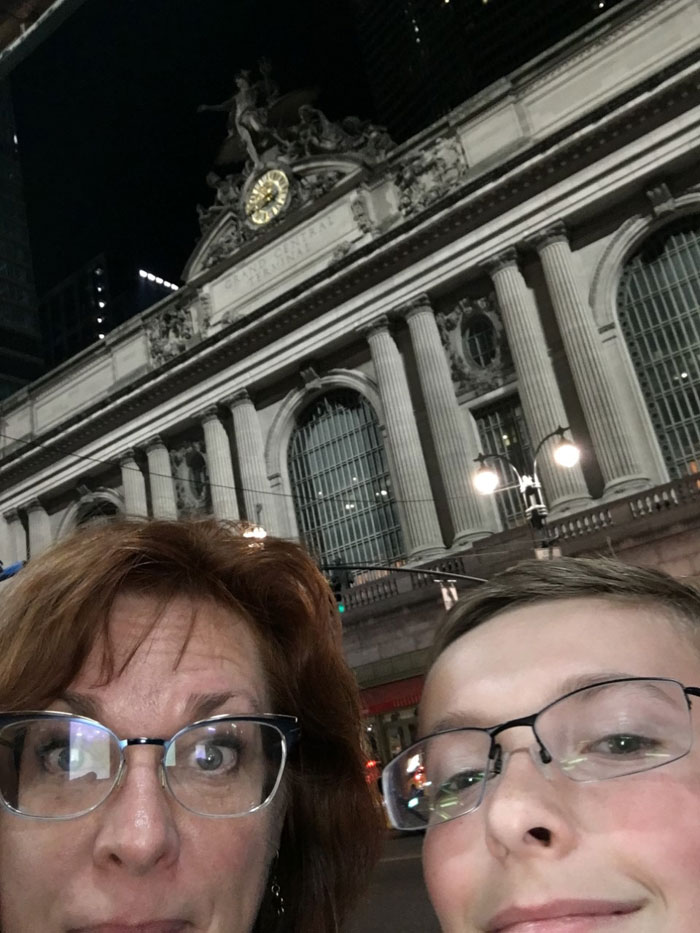 We arrived home late that Monday night and then the very next day I served as "class monitor" for the next 4 days for master artist Bill Suys who was in town at my invitation for the "Study with the Masters" series of workshops I have set up with Sweetwater Center for the Arts. Bill is a generous teacher and a stunning oil painter and our class had an amazing time learning about how to paint animals and watching Bill's passion for animals come out in his work. Here is a demo he did in about 3 hours one day…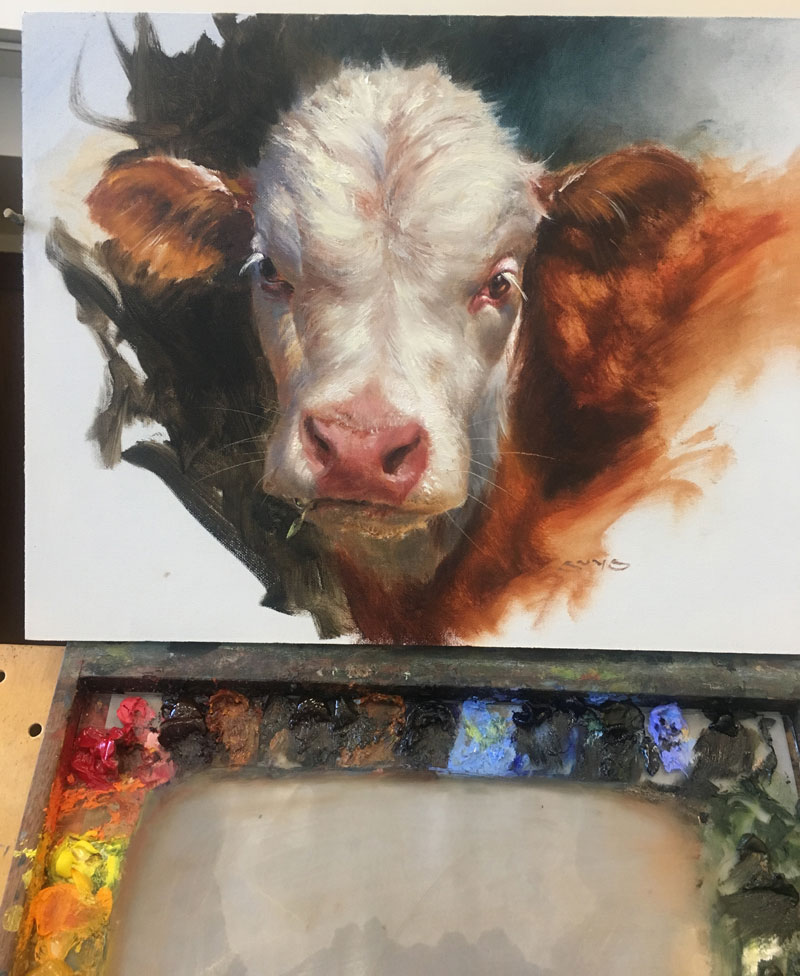 A 3-hour demo! It was incredible listening to how he talked about rendering a "soft nose" all the while thinking about structure of the skeletal forms and fur. Lots of work, but a good time had by all. I got to take him around Pittsburgh a bit and we visited the Carnegie Museum of Art. Always good for the soul.
Be sure to check out his site to see more.   https://williamasuys.com
And while I was doing all this running around like a chicken, I got to paint one in class…. my first "feathered friend" in oil!!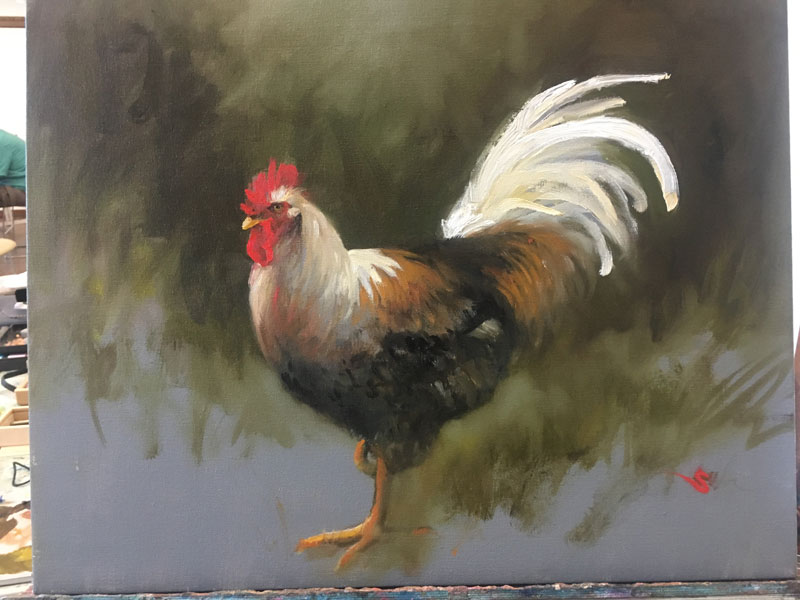 A HUGE thank you goes out to master artists Robert Griffing and John Buxton for hosting Bill in their homes and for helping to take him around to classes and to dinners. It also gave the class a "two for one" special with the ARC Living Master John Buxton also painting alongside us! John and Bill below…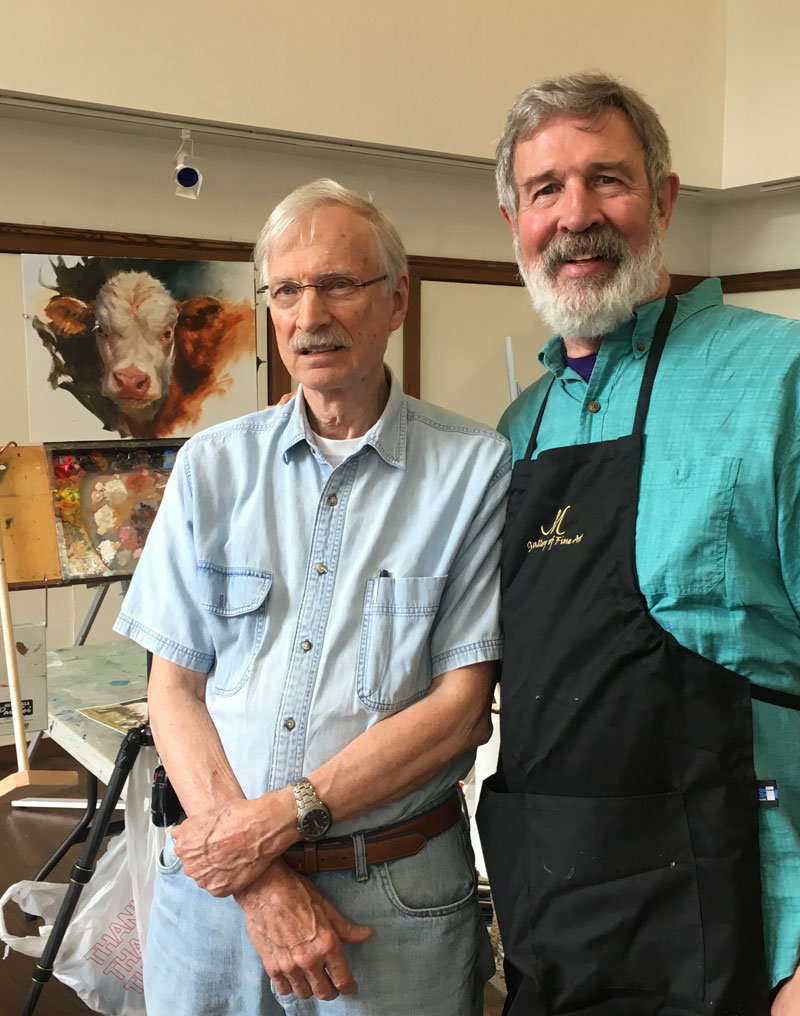 Be sure to check out John's upcoming one day workshop on Nov 3rd on "Creating the Narrative." Learn how a master artist designs his pieces all the while designing your own work. I will be signing up and learning from this master too! Sign up at Sweetwaterartscenter.org.
Side note… This is John Buxton's piece that just won a prestigious award at the ARC international Salon.
Congrats John!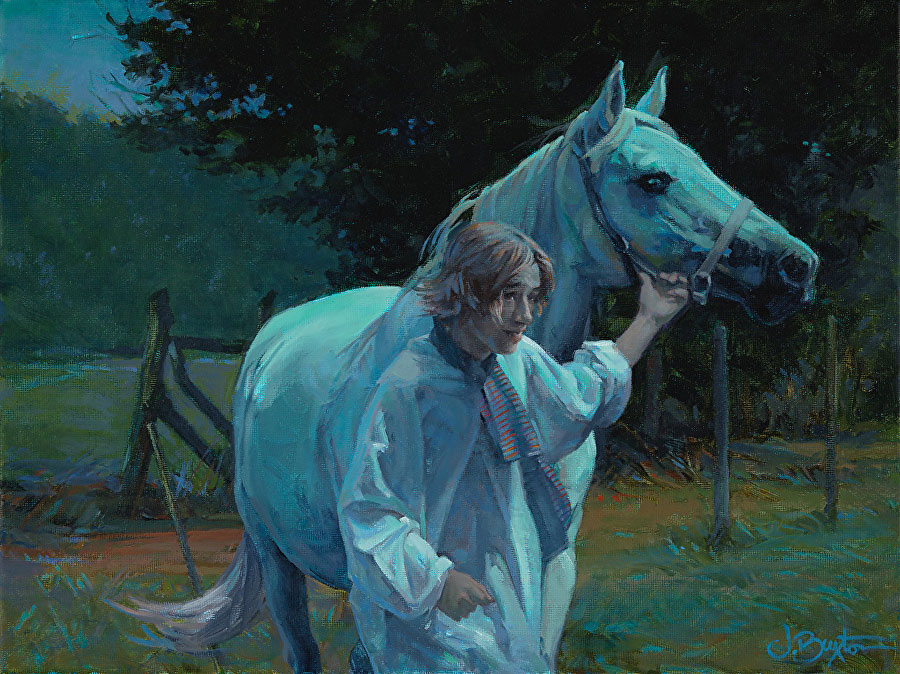 And his site…  https://www.buxtonart.com
As soon as Bill was on his way back to Wisconsin, I was at the Sewickley Gallery and Frame shop with Pittsburgh artist, Patrick Lee for the Art and Music Festival in downtown Sewickley. Lots of food and fun. Patrick's originals are still at the shop, so be sure to make an effort to stop by to see these paintings. It will be worth the trip, I promise. And say hi to master framer Mark Rengers for me.
Then Patrick Lee was also our speaker at the September Artist Guild meeting last Monday Night. What a talk! Patrick was inspirational and so full of passion– which is so evident in his work. Seeing the progression of his paintings over the last few years and the goals he has set for himself left many artists in the audience psyched up to get back to their own work.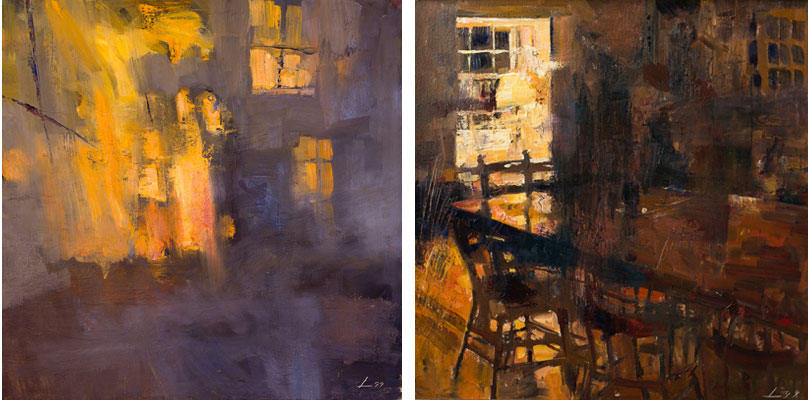 I have to admit that during the meeting I was starting to sound like a foghorn since all my running around like a chicken was finally starting to take its toll…  I was getting sick. Although I told myself it was my sexy version of Kathleen Turner. (too young for that reference? Well, I am old.)
Here is a link to Patrick Lees website.  Be sure to check him out too! https://patrickleefineart.com
So the last week had me fighting sickness, running to soccer games and starting a new body of work. In both pastel and in oil… and then there are the commissions that are starting to pile up. But this past weekend BOTH my girls were home from college to hang with their mama– so I didn't even look at my emails. Priorities, ya know?
Yup. I lead a boring life. But at least I am back to writing about it.
I would love to hear from you!  And be sure to sign up to get my blog notifications every week if you have not already.