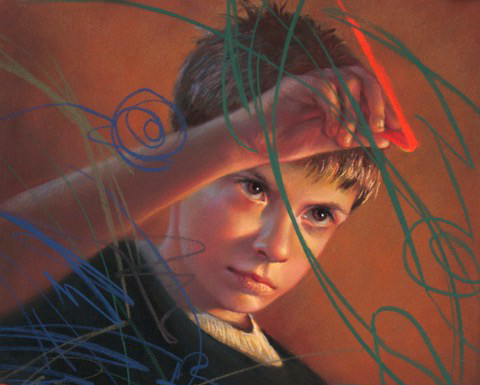 "Determined" Awarded the Maggie Price Award of Excellence
IAPS International Exhibition
Christine Swann PSA, IAPS/EP
Christine has been designated as an Eminent Pastellist by the International Association of Pastel Societies. (IAPS)  There are only 25 artists with this distinction in this medium in the world. In 2015 Southwest Artist Magazine selected Christine Swann as an "Artist To Watch" and her artwork has evolved since then.  Although she originally started out by painting her children by bribing them with candy, she now works with live models.
Known for her "personality portraits" she started as an illustrator and is now an award-winning artist on the international level, including winning the IAPS Best of Show "Prix de Pastel" Masters Circle Exhibition award in 2020 and in 2015. Her pastel, "impact" will be featured as an Honorable Mention in teh 2023 Artist Magazine. She also has won the PSA Award in honor of Flora B Guffuni at the Pastel Society of America's International Exhibition in New York where she has been part of this prestigious exhibition nine times. Her work has traveled internationally including the 2nd China (Suzhou) Biennial International Pastel Exhibition, and won Second Place at the Pasit Pastellists Italiani Association International Exhibition of Pastels in Tivoli, Italy. She has also shown her work at an Invitational Exhibition in France.
Christine won "Outstanding Pastel" in the BoldBrush Competition for four years in a row. Her work received 5th place in the Portrait Society of America Member's Competition in 2015 and as a finalist in 2019. She has also been part of the Art Renewal Center International Salon Competition several times. Her work has received 10 Honorable Mentions in the Pastel Journal's "Pastel 100" International Competition and Second Place for a portrait in 2014.
The French Magazine, "Pratique des Arts" has showcased her portraits in three recent feature articles, as well as in the French book, "40 Pastel Masters" under the chapter on "Masters of Composition." The Pastel Journal featured her work in the 2016 October issue with an 8-page article, "Powering Up" and recent articles include, "Do You Suffer from PPS?" and the "Five-Minute Coach" column.
Christines's latest body of work in oils, "Broken Vessels" was shown at a Solo Exhibition in Pittsburgh, PA in the fall of 2022. 
Christine is a Signature Member of the Pastel Society of America, and a member of the IAPS Masters' Circle, a designation she received in only 6 years. She received her Eminent Award in 2022. She is also a long-time member of the Pittsburgh Society of Illustrators and Portrait Society of America. She currently teaches her "Power of Pastel" Workshop to groups around the country.