Physicality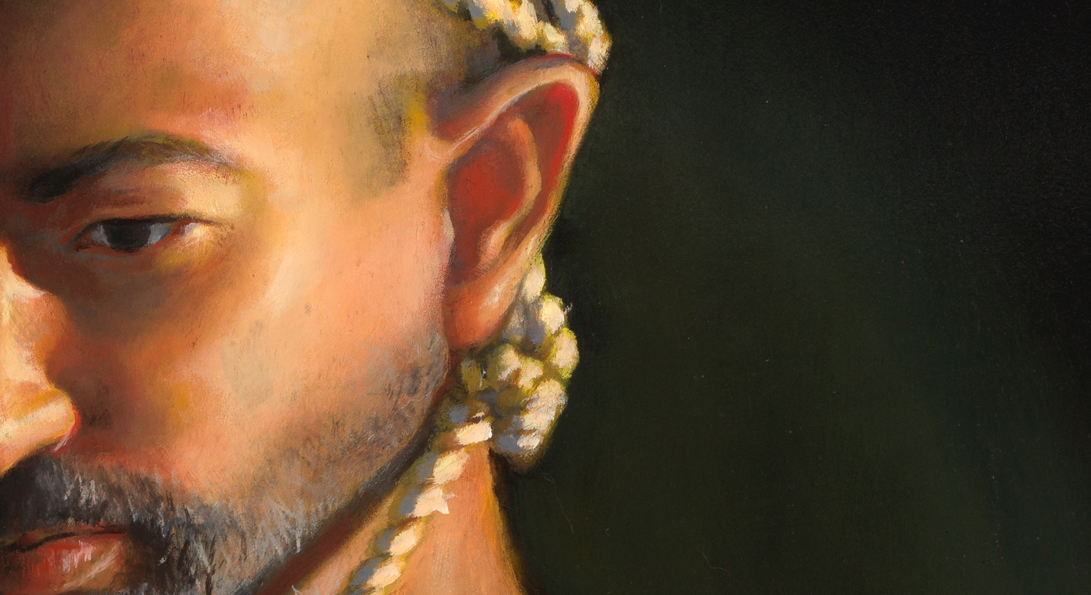 The opposite of spirituality is the physical body.  And no matter how fit, how young, or how invincible you think you are, your body can break, become ill or decline.
This model is a good friend who is a ballet dancer.  A few years ago he fell and broke both of his arms. His arms were in traction for over a year and he didn't know if he would dance again. So I knew I had to cut the image through both of his arms. I knew that before I even started designing this piece. He came over for the initial photo shoot with a bunch of props and we were both trying to figure out a good pose to represent how the body can be strong, (this was important) so I could then cut it somehow and show how even a fit body can break. (I love collaborations) After a bunch of costumes and poses he wrapped this rope on his head (he is such a great and creative model) and I knew that was the pose I needed to show how our physical state is so very tied to our mental state. I liked how he is pulling on the rope tightly.  In order to heal and repair physically we have to be mentally strong too, otherwise the body can decline further. There were many sessions with his hands.
"Broken Vessel #2 Physicality, oil 36″ x 24"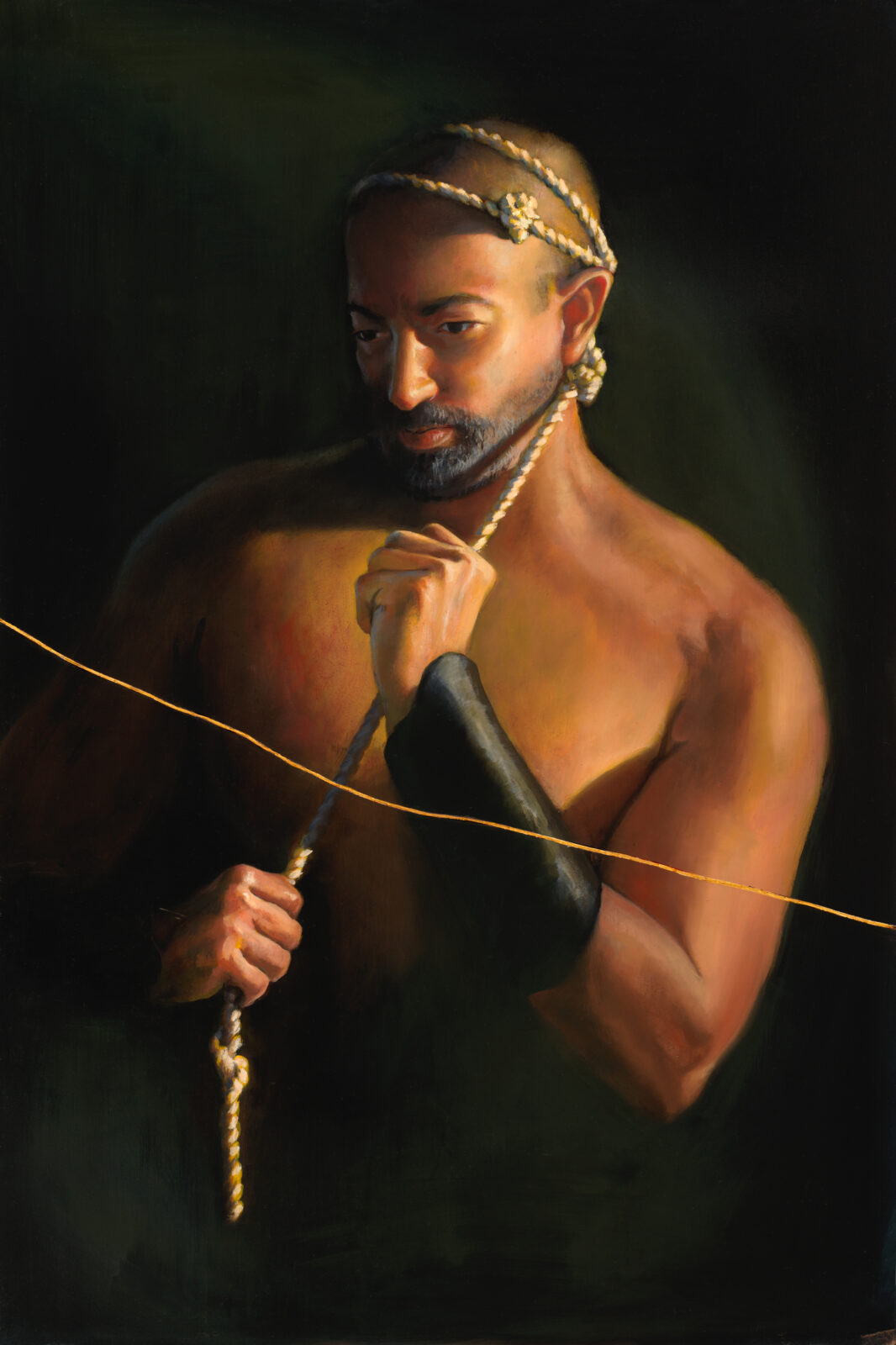 Again, this panel is cut simply-  right through both arms and right through the rope tying the mental and physical connection.
Here is Hector posing for me.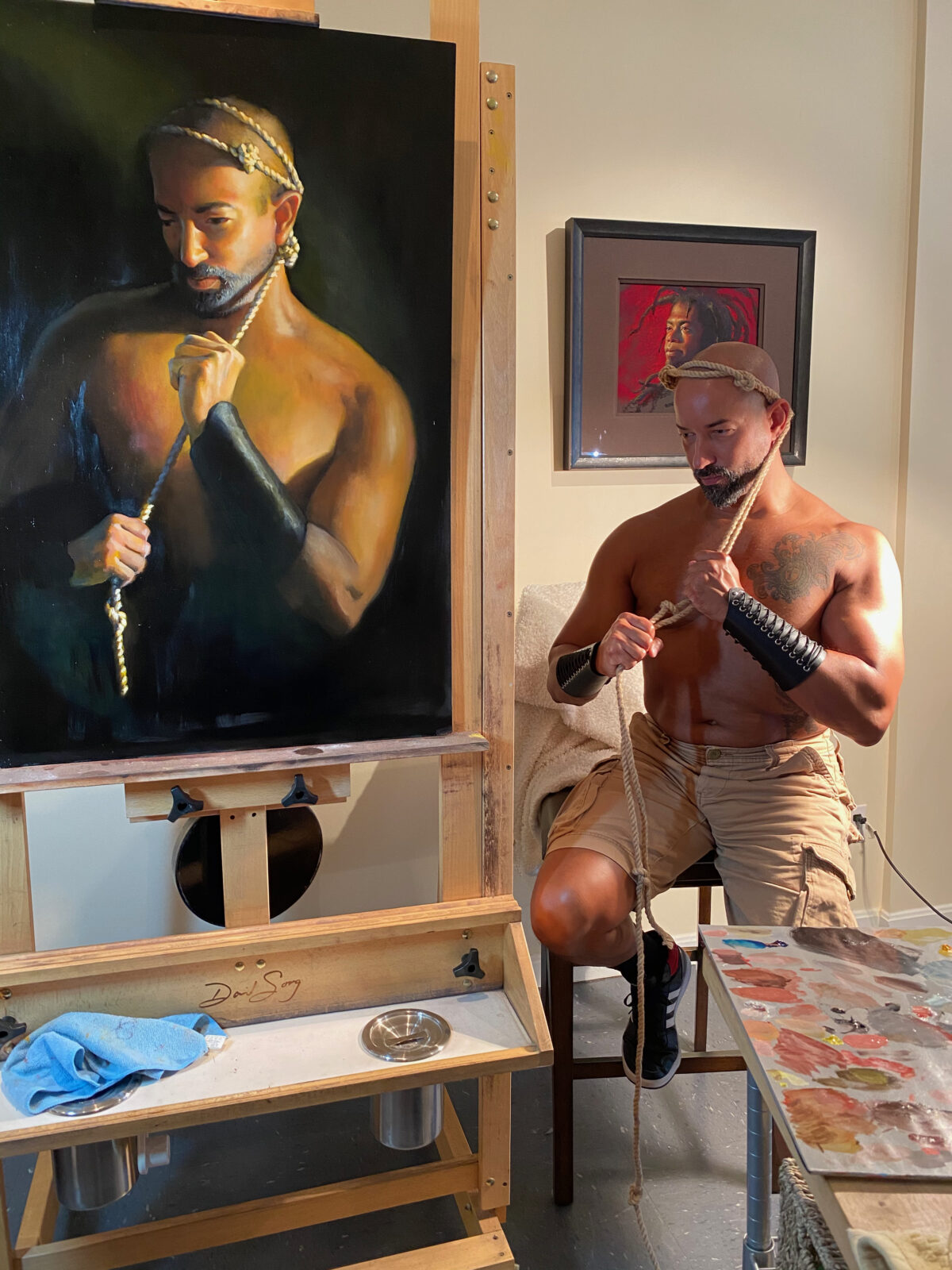 And if you didn't see it,  here is how the fibonacci spiral became a base to the composition. I have an app that I use to add this kind of template to images as I work on them.  Not a great pic below (oils can have such a glare on them) but you get the idea….and yes, the hand, and the rope on the head and the color changes in the background were all designed to support the spiral. This time the spiral is reversed in direction from the "swing" in the spirituality panel. Hers goes up and to the right (did ya notice how she was leaning?) his goes down and to the left circling the hand.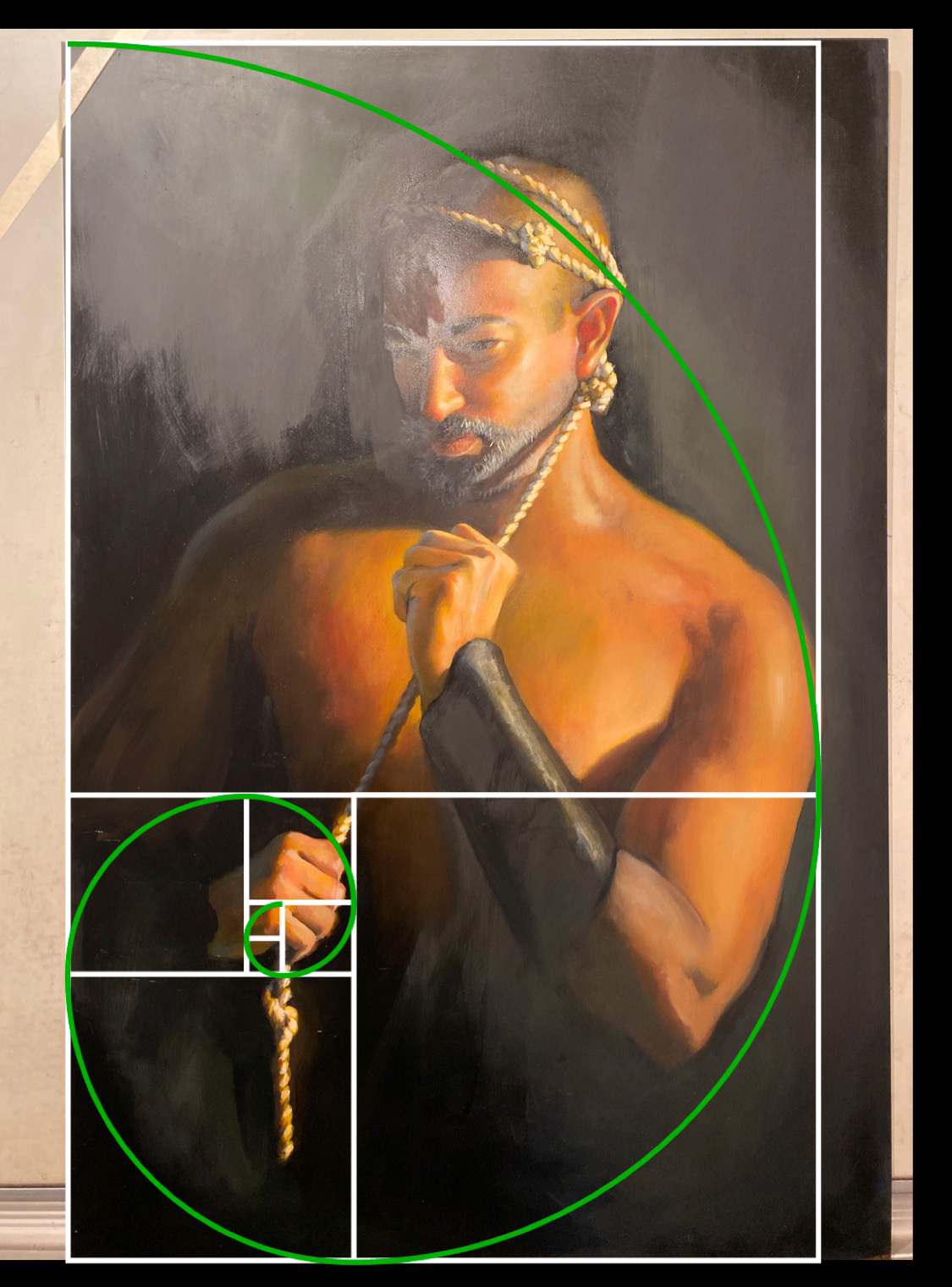 Of course there were lots of little sketches along the way and figuring out how the spiral would play into things, and then I had to figure out how to cut it up.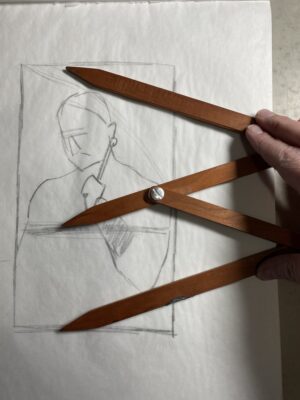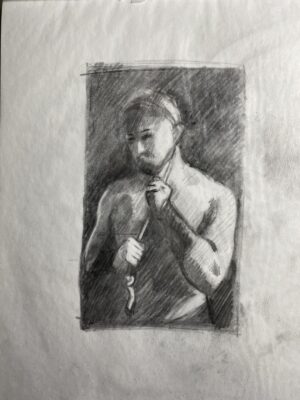 Here are the first 2 panels side by side on my drafting table in the "yellow stage" while I was working on them at the same time.  Here you can see the fibonacci "spirals" more clearly in the images. Again, I wanted to include that in every panel so it plays into how universal these elements are and how we can all struggle with spirituality and physicality.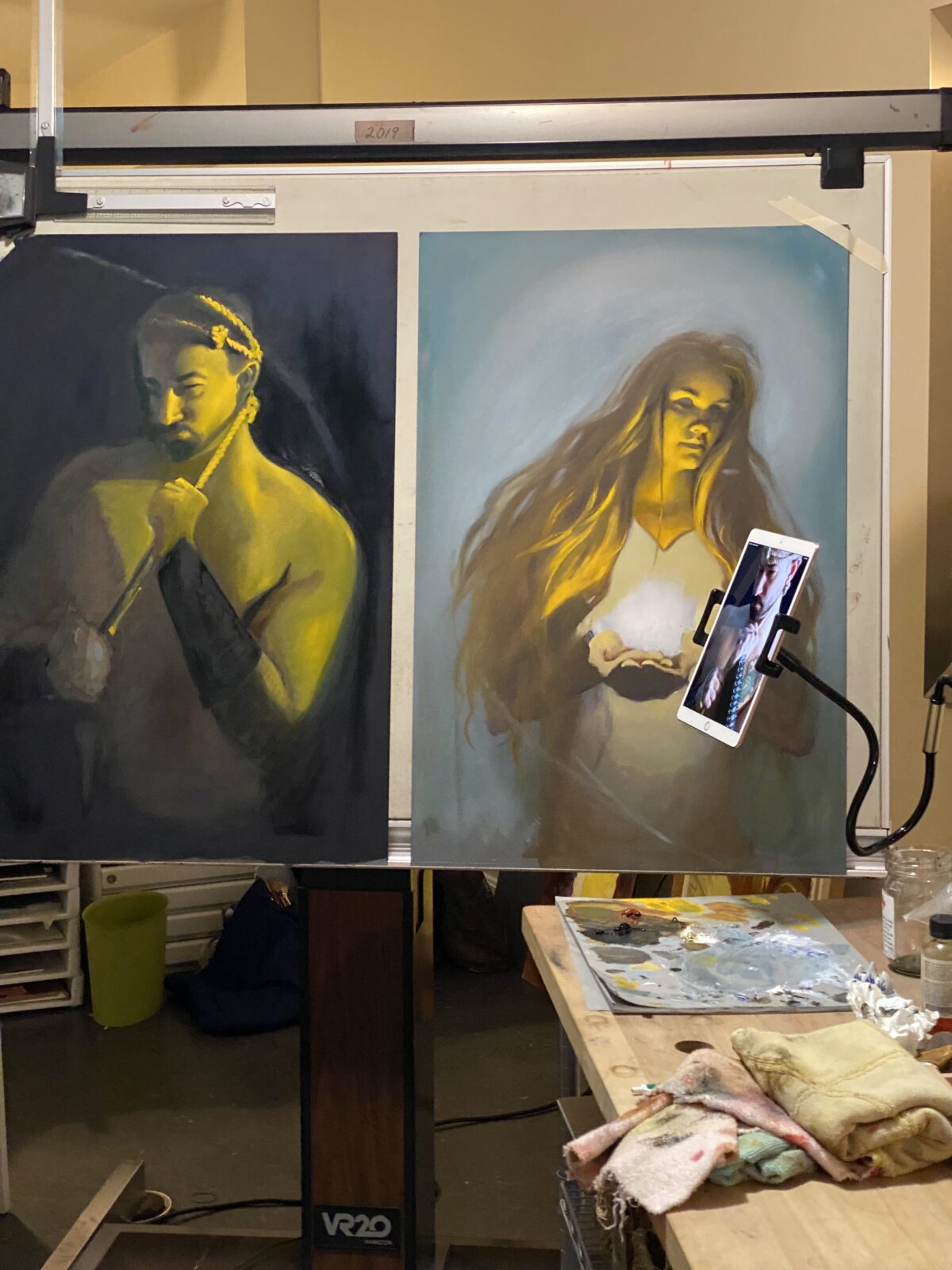 And here is this painting cut in half…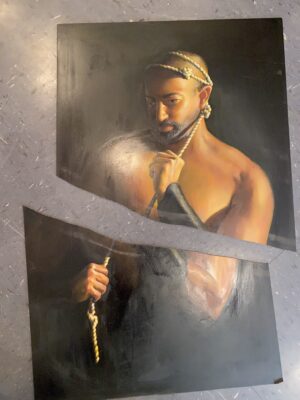 This is when  I realized I would have issues with the saw leaving a "trail" in the top layer of paint- see the "scuff" marks alongside the cut area above? I had taped soft felt onto the metal "feet" of the saw, but it was not going to be enough to protect the surface.  It would be a lot of repair work if I didn't figure this out. Especially on the panels that are cut up a lot more than this. And holding the saw up off of the painting was not an option, really, It was very heavy and it would "kick" the blade too much.  Plus it hurt my hands. So I experimented with a bunch of things until I got it to work… more on that later….until then, I had to repair the damage on this one by painting over those areas.
I have to say I am proud of this painting. I had not painted from life in oils for a long time and so finishing this one from life was very satisfying. The original is so much better in person than these photos show, so I hope you get to see it at the exhibition opening because a collector is already waiting for it to be added to her private art collection. You will see a big red dot on it at the gallery opening on October 8th, at the Christine Frechard Gallery in Lawrenceville, 5126 Butler Street, Pittsburgh PA. 51201.  5-8 pm.
Too cool.
Next week is the "Security" panel.