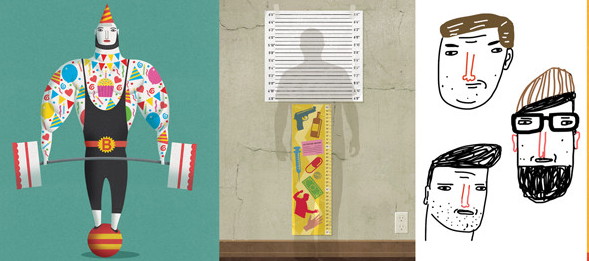 Monday night was the second meeting of the new Artist Guild here in Pittsburgh. How do I know? I am running it.
Guild-/gild/noun – An association of artists and craftsmen coming together for mutual goals; often having considerable power.
So you may have read my earlier blog about my setting up this group. So far, so good.
This is the goal… to bring artists together every month to network and basically to find out about the amazing creators in our own backyards here in Pittsburgh. In the first two meetings we voted on and finalized our mission statement. Whoo hoo!  First thing accomplished!

Our Mission Statement- We are a community of artists dedicated to creating opportunities to celebrate diversity in the arts. We strive to empower all artists to support each other and the community through exhibitions, education and community outreach. 
So on Monday night we held our second formal meeting at our host home-  Sweetwater Center for the Arts in Sewickley- and we had about 60 artists in attendance from all over Pittsburgh. We listened to my friend, the amazing George Schill, talk about his humorous illustration work for American Greeting Cards (38 years he has been designing for them! If you have bought a funny card, chances are it was his.)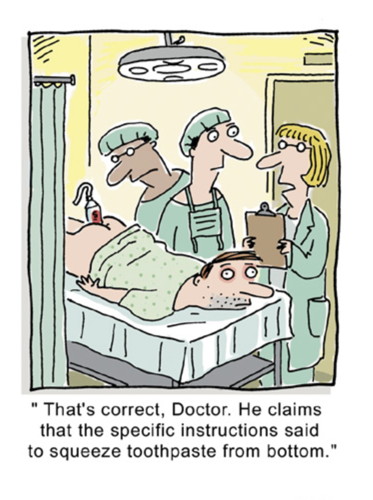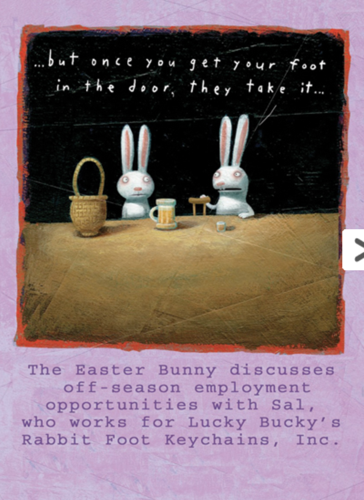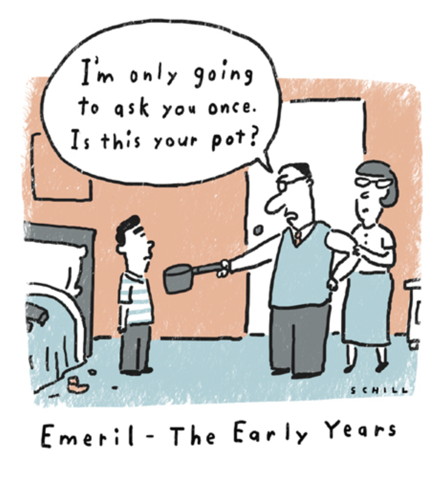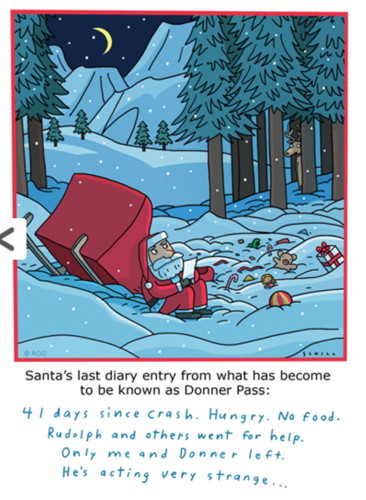 And he talked also of his editorial illustration work. I have known George for at least 25 years and he encouraged me and my little portfolio book full of portraits back when I was a young illustrator myself. And although I had always admired his work and found him profoundly funny and insightful, it is always a treat to hear the stories behind the work and to see how he comes up with his designs. For him, it starts with writing on scraps of paper with ideas. No sketchbooks for him! Puns and plays on wording. Then he showed typical constructions of images using Photoshop. It took me back to many hours of fighting with that program until I gave it up in 1995.
Yep, I am old.
It was a fun night and he brought a ton of cards and prints to see while showing work in a large powerpoint presentation. I learned a lot actually. Thanks George!!!
And I'm happy to say I am now the proud owner of his print below… it makes me smile!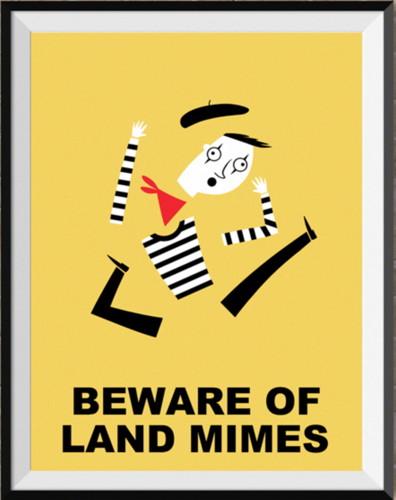 I'm happy that the guild is starting to gain momentum and I hope you can join us! Every last Monday of the month I am lining up a new Pittsburgh artist. There are so many of us!!! All mediums, all artistic endeavors are on the the table and ALL are welcome!! If you are an artist and a friend of mine, beware, I might be stalking you to talk about what you do…
Next month will be Christine Manges. A fiber artist that specializes in braided rug work. I can't wait! This is the kind of artist that I am fascinated with… how did she pick that as her focus for her work? What is the history?
Come and find out with me on March 25th at 7pm at Sweetwater Center for the Arts in Sewickley, Pa.
I'll be there, so be sure to say hi!