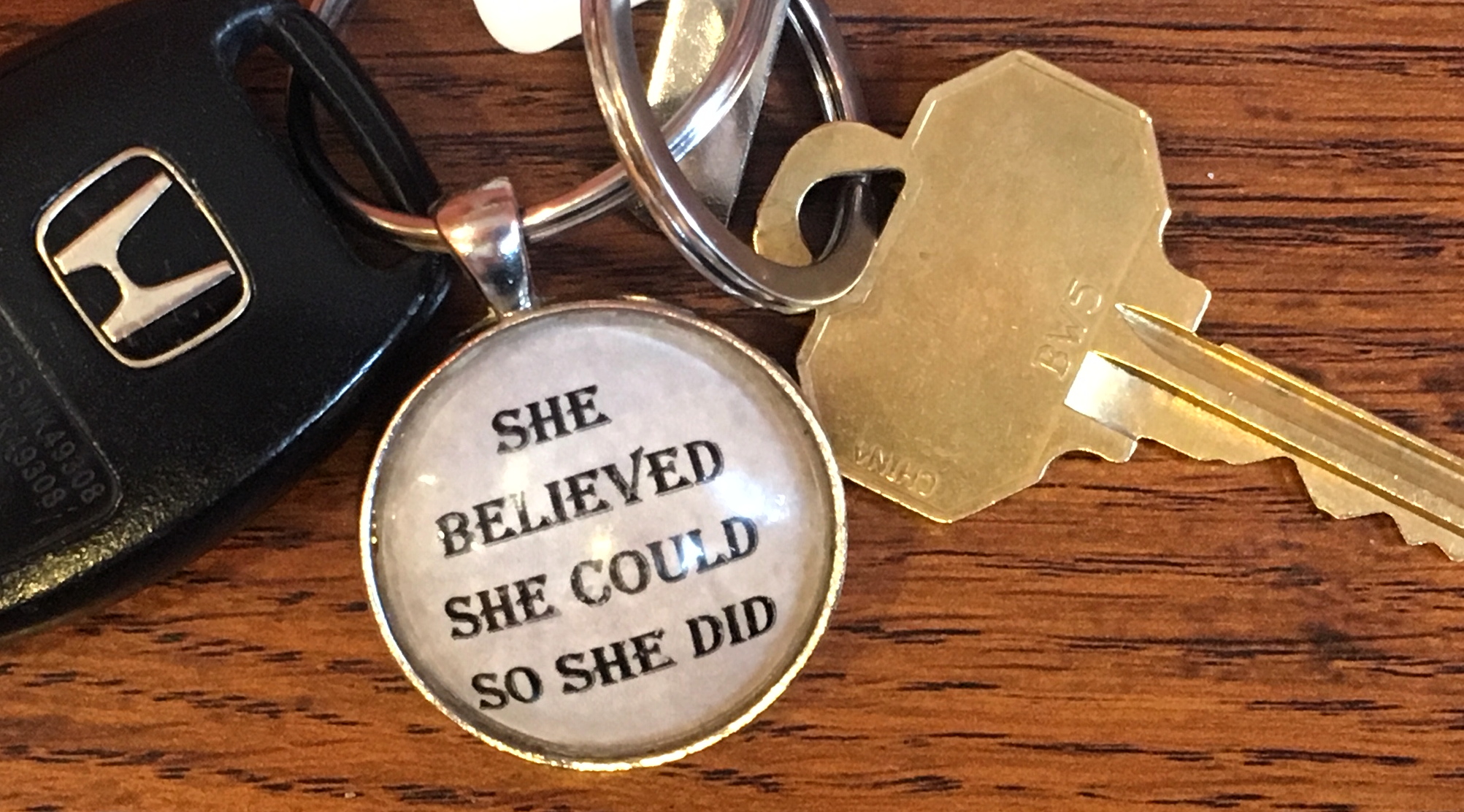 "I don't think that there is anything that is really magical unless it has a terrifying quality."
-Andrew Wyeth
Ok, going personal this week. Tomorrow is my 51st birthday. Talk about terror… going into the next century of my life and I have realized it is going to look a lot different than the last 50 years. I was in church a few weeks ago when the pastor talked about this phrase from the Bible, "Be not afraid." He said life sometimes is a leap of faith. Our goals, environments and desires will change, and sometimes we have to go with our gut and change with it. The photo above is of my keychain. I have had this quote on it for many years as a nice reminder to live life a bit fearlessly…  the quote is from Alice in Wonderland. I always figured I could do anything I set my mind to, but let's face it, we all have fears.
Wyeth talked a lot about the purpose of creating art for the sake of creating art. In fact, he shunned the world for quite a while and wouldn't go out – not for shows, not for awards. He somehow didn't care about the "Hey, look at me, I am good!" syndrome. Yes, he was successful and sold artwork for millions, but that came later, the work came first. I think his quote above is in reference to his belief that having a painting a bit out of control can be a good thing.
Wyeth also said, "Artists today think of everything they do as a work of art. It is important to forget about what you are doing – then a work of art may happen."
I am trying to live by this quote more…
A year ago I posted about turning 50 years old. I got a tattoo of my "swan swish" – how I sign my paintings. It was my way of saying "this is who I am at 50" …  Little did I know how much of me would change a few months later. Now I am embarking on a whole new world of self-discovery for both myself and in my art. I am now single, love yoga, am teaching oil classes and have started building a new Artist Guild as a haven and networking forum for all Pittsburgh artists working in all media. I will have 2 kids in college soon, (so I don't need to buy out Costco anymore) and I now live in a town where I can walk to everything. Even to the Art Center where I am now on the Board changing the direction of the Center, and have even invited nationally-known artists to come and teach with me.
(If you want to know more about those workshops, click here…  the Master classes are listed in more detail on page 30.)
I am finding my way… I don't feel 51. I don't even feel 30. My grandmother in her nineties used to say, "How did I get here, Chris?" And I would say "one day at a time." Lame, I know, but true.
So I guess my art is changing and aging one day at a time too.
My past fear is now being confronted and hopefully channeled into good things. I used to be terrified to paint in front of people- will they see that I am a fraud? I used to labor over my photo references while constructing commissions. Will they not like it if it is not "perfect?" I am not thinking like that any more. Now I am seeking an element of almost recklessness in my work. Almost like I don't care. Last week I painted the painting below in one sitting lasting 90 minutes. No labor-intensive planning. And I think I like this better than most of the work I have labored over for many years. Linda is in my current oil class and I "thought" about her and her friendly, almost manic personality and then I painted that. Boom, done.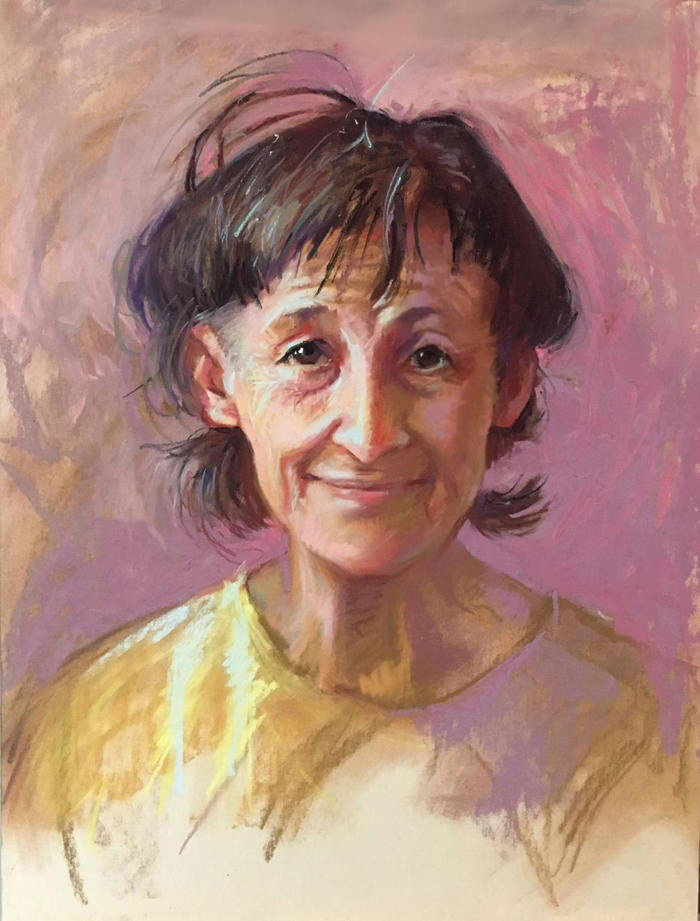 So I am changing the way I work. I knew I would. My commissions will only be head shots from now on… while I practice and practice working in a more deliberate, immediate way. Ideas are churning, models are being booked, workshops are being scheduled. I am trying to be fearless. I am trying to learn from Wyeth. I am trying to follow my keychain… "She believed she could, so she did."
So no images from Wyeth this week-  I didn't dare put my work and his into the same blog. We will get back to his images next time.
Next Week on May 16th at 7 pm I am painting a live model from life at Sweetwater Center for the Arts as part of their "3rd Thursday" lecture series.
https://sweetwaterartcenter.org/studying-the-portrait-art-lecture-with-christine-swann/
I will paint and talk about interpreting a head from life. Will it be a good likeness?  A cool painting? Who knows. I sure don't, but I believe I can do it so I will attack the fear. And I will happily share what I can about what I do… that's all I can promise.
I hope you can attend.