And so it ends with me…..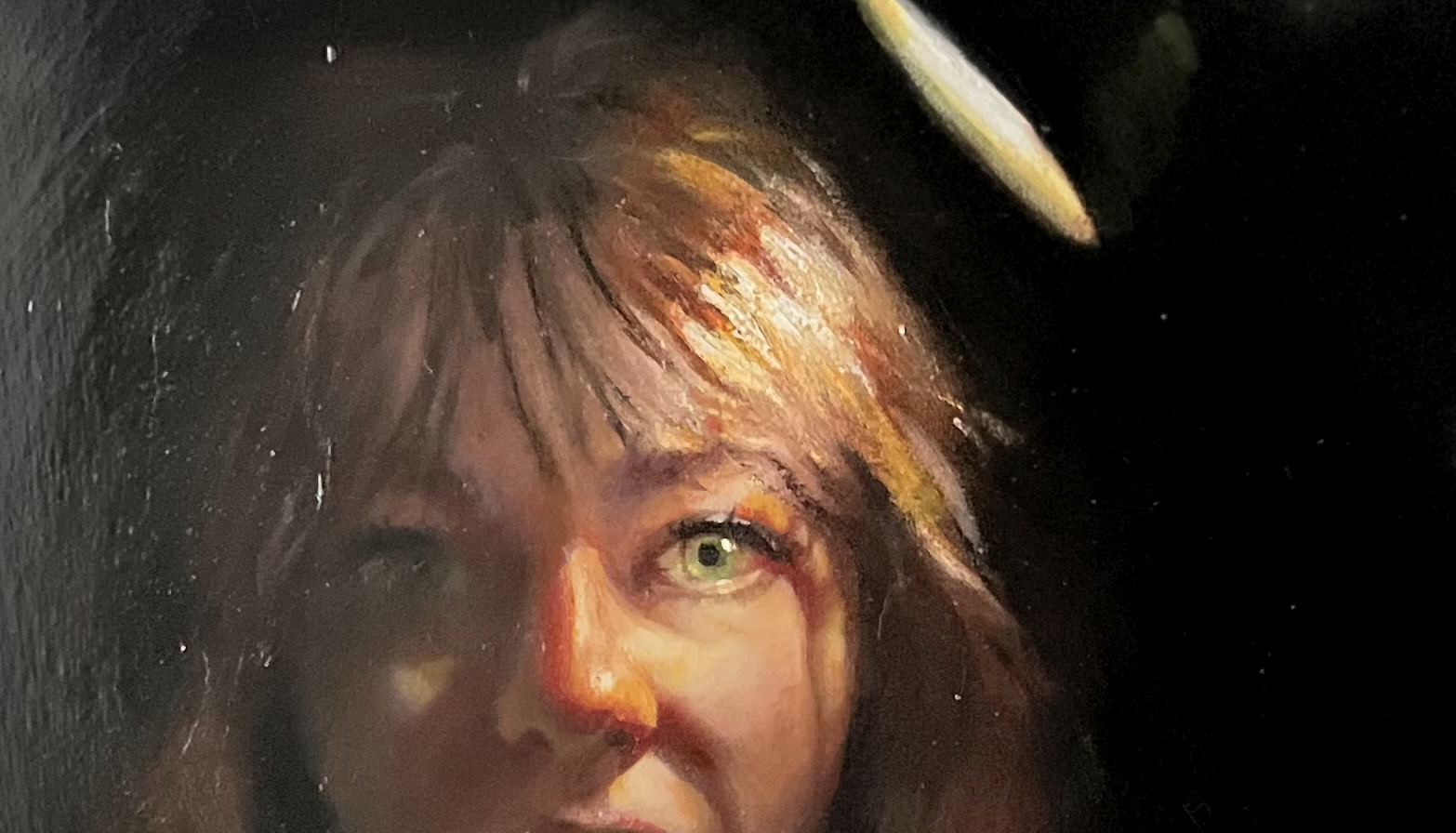 My dad had a heavy, silver metal flashlight.  In my mind It is synonymous with my childhood. When there was a storm and a power outage (which I loved) we reached for it and candles. There is something magical about dancing around with a flashlight in the darkness. I remember spinning the light in circles on the ceiling and on my sisters. 
Image before being cut up….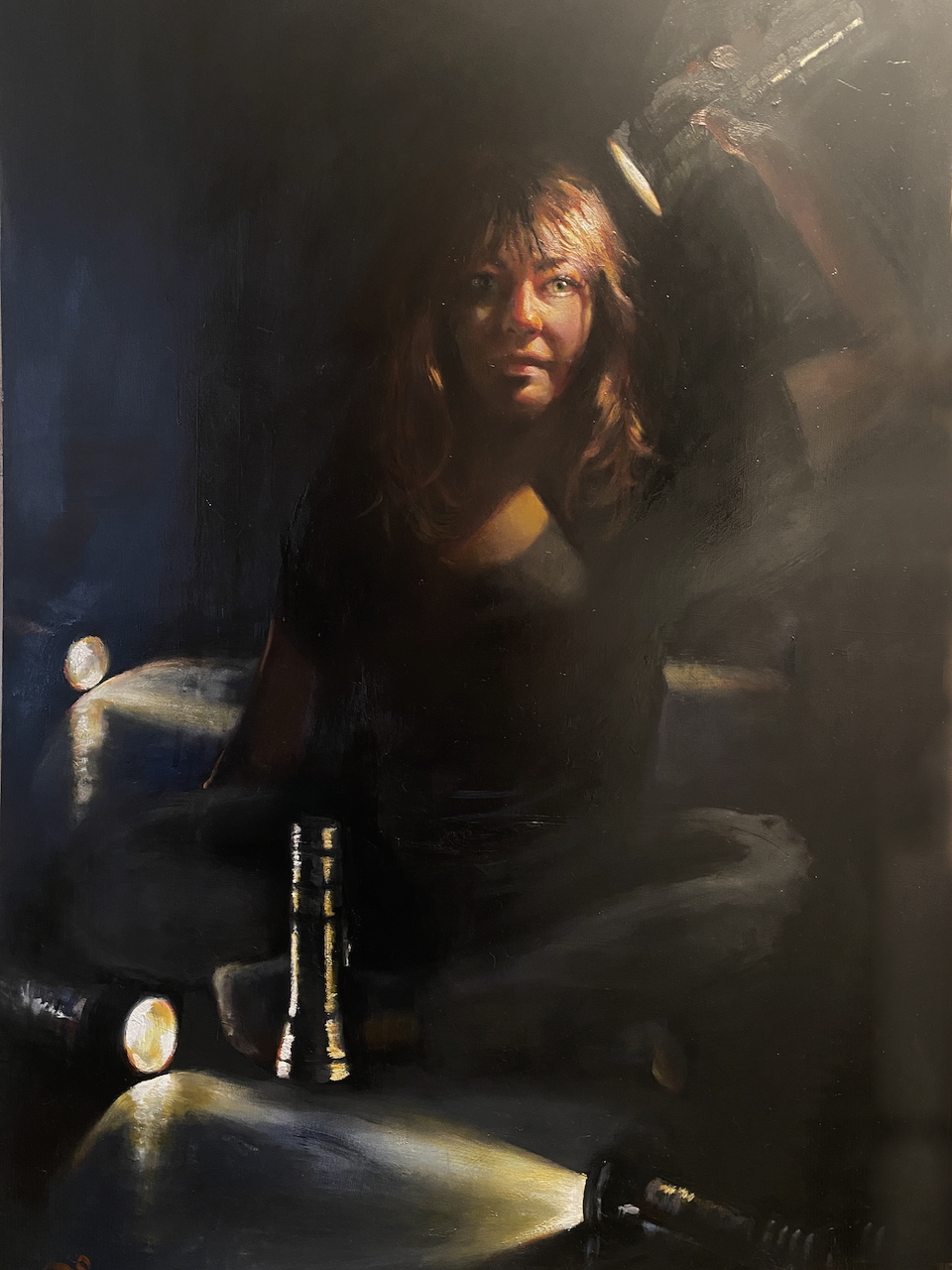 I think we are all searching in the dark.  No one comes with an instruction manual.  I was always amazed that what worked for one of my children didn't work for another one. They were different. And I believe we are all just trying to find ourselves and how to feel comfortable in our own skin. Whether it is a change in hair color, a career, or our pronouns. And who are we to judge each other in our search?
"Broken Vessel # 9 / Identity"  36 x 24" Oil and gold leaf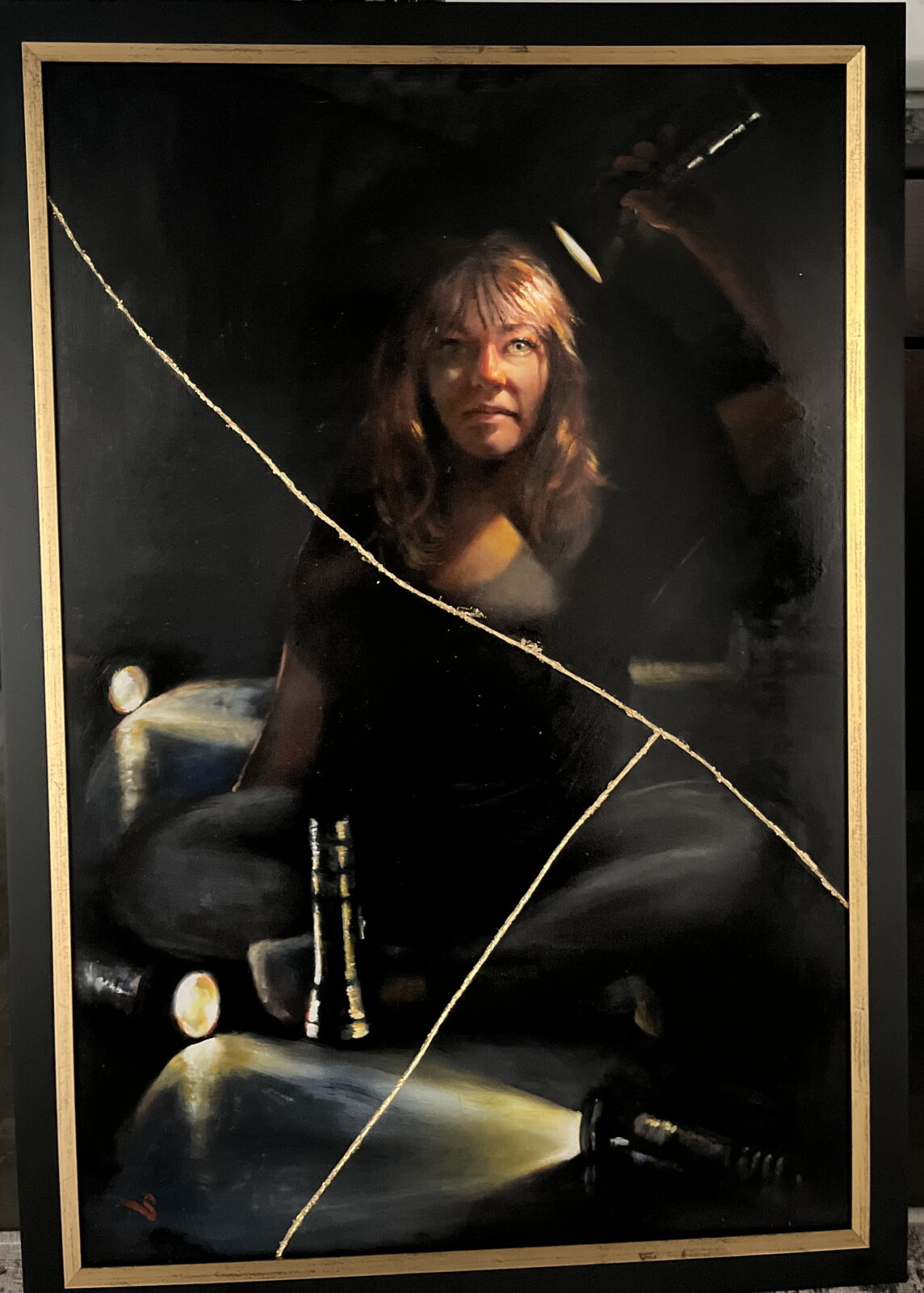 And here is the painting cut up and in the frame- the frames really made a difference to these images. I cut it up simply in 3 pieces, like a child's puzzle. Putting ourselves back together should be simple, right?
Painting oneself is tough. I ordered a silver flashlight on Ebay to paint since I couldn't find my dads.  It was old and didn't work, but that was ok. I used other flashlights as well to create the paths of light and to study the light refections on the silver one. I studied myself in a mirror. I studied photos of myself. At my age that's hard to do too- (gotta remember the Beauty and Endurance lessons). In the end I wanted it to look enough like me but not be a real portrait. The colors and light were more important. In full disclosure, this photo above is a sucky representation of the painting.  I did not have time to get this one professionally shot and it is really difficult to get a decent photo of such a dark painting when most of it is black (so much glare) but you get the idea.
As I write this I am sitting out in a beautiful cobblestoned street in my new home in downtown Greenville, South Carolina. They say this is the "sister city" to Florence, Italy and I can see the resemblance. There is even a replica that was cast in Forence of the statue of "Il Porcellino"- the famous statue of a boar that is in Florence.  I just walked by it  earlier.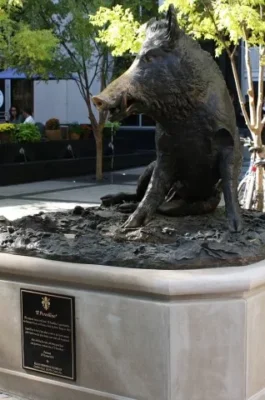 There is a guy playing classical guitar on the corner near me. The breeze blows and I can't believe how beautiful and full my life is right now. My show in Pittsburgh just came down and last week I drove the remaining paintings back to South Carolina. Back to my home. 
Six months ago if you had talked to me I could never have imagined this life. This leap. But sometimes the rug is pulled out from under us for a reason. To find our footing somewhere new.  
Creating this body of work over the last 3 years has been a search in the dark for me. Not just about what I want to paint or even what I want to say, but how I want to breathe- what I want to take into my life and what I want to breathe out into the universe. Maybe I needed to understand what it was like to not be able to take a breath last Spring after my surgery in order to find enough oxygen to move forward into this next chapter of my life. New work, New home. New way of looking at my life.
Soon painting again.
But until then I am still turning on flashlights. Turning them on myself one by one. Illuminating pieces of myself I didn't even know existed. I love yoga. I like grits!I found a favorite coffeehouse to write in. I am walking the "Swamp Rabbit Trail" in downtown Greenville and loving every minute. And working up to run again. Over 5 months out now from my surgery I am finally pain-free while walking again.
I have ideas for the next 12 kintsugi panels. As always, the designs come first. Then I will find new models, find my paints, and then I will begin again. And I will continue with gold leaf both on my paintings and on my life. 
Here is my new workspace… I even get a little visitor every once in a while….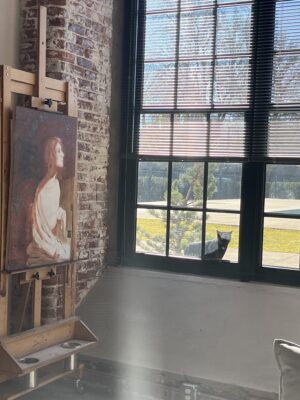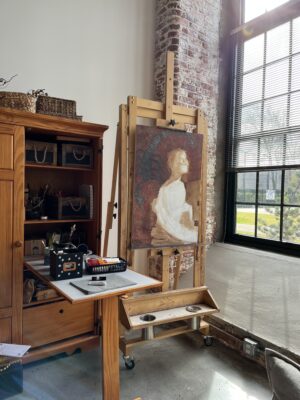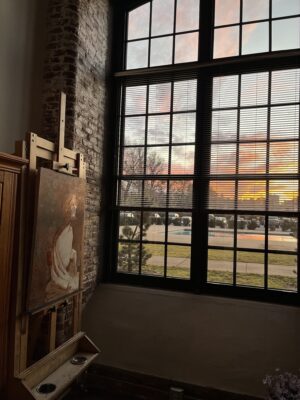 So that's it. My12 babies that I have nurtured and then cut up with a saw. But for now, like I always do every year, I am taking time off from writing for a while so that I can concentrate on writing my book! I am determined to finish it next year. Tomorrow is Thanksgiving in the States and today I am on a plane to my daughters' apartment in Iowa City where we are definitely planning on an unconventional holiday with talk of Thai food and, of course, a blanket fort. This is her last year in college before she heads out to who knows where… so we will be college kids for a few days together.
I have Power of Pastel classes starting on January 10th at the Greenville Center for Creative Arts from 9:30 – 12:00 every Tuesday.…so local artists— come find me!!! It will be a weekly class to control those lovely sticks- for any medium and for every artist. You can bet on the fact that I'll be talking about light and my love of pastels. I hope you can join me.
I also have an in-person "The Portrait in Pastel" Workshop on March 4th and 5th. 10-4pm. Hope you can join me for 2 days of intense study. All are welcome. Please reach out with questions or to sign up.
In the new year I will also be starting up Open Studio Figure Drawing Sessions on Thursdays nights, also at the Greenville Center for the Creative Arts. 6-8 pm. I'll be giving "mini lessons" each night before we start with the clothed model. All are welcome.
And as always, thank you for your encouragement, your interest in my work and for following along on my journey. If you have been reading along over the last few months while I posted the images from my show, I really, really appreciate your time and support. All my love!
Hopefully I'll see you in person in  2023. Happy Holidays!