My 16-year old daughter in all her wisdom has recommended to me that my blogs can't all be about technical stuff, so in that vein, I am talking this week about my companions in the studio. So if you don't like photos of cute kids and cats, you may want to skip this week……
I like to be alone. I guess most artists do, otherwise why else would we pick such a solitary occupation? However, I am rarely alone. Especially now in the summer. All three of my kids have spent time in my studio at one age or another keeping me company. I am happy that they know a lot about pastels and are not afraid to voice their opinions on my work as it progresses. My oldest daughter used to paint beside me many years ago, but at about age 10, she abruptly stopped. I asked her why and she said, "I will never be as good as you, so I quit." Beyond that little sting, it has been good to have their company. This summer my son ha been spending a lot of time beside me in one studio or the other and whether he is painting or building robots, I cherish this time with him. Here he is a little younger hanging out with mom.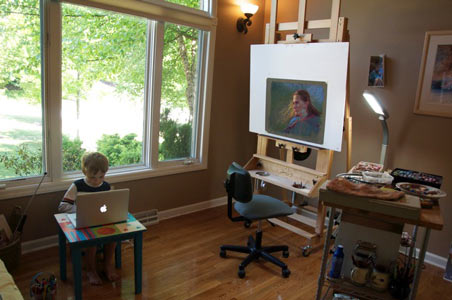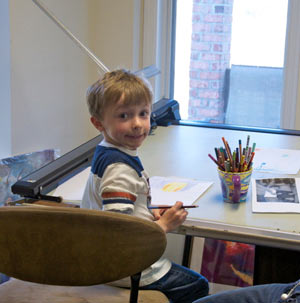 I have fuzzy companions too.
This is Gumball. He is 14 years old now and has been my constant companion while painting. When he was younger, if I walked away to wash my hands, he would follow me and then follow me back to work. He is moving slower now, but I love when he visits.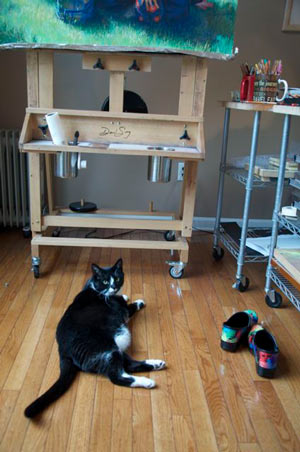 (Yes, he is very fat in this photo- he has a cyst that keeps growing back at an alarming rate…)
Then, last winter, I caught a tiny 3-month old kitten that had been eating birdseed from the neighbors' feeder. I was working at my drafting table in the basement, when I saw a blur of white and grey streak by the widow. It was the last week of December and it was about 20 degrees outside. Another neighbor was going to take him, but when I told them I had finally caught the kitten, they said they had just put money down on a dog. Hmmmm….what to do with a very feral cat? The hubby was not pleased…..
After shots at the vet and a discovery that he was a boy, he wound up in my studio. Hardwood floors and separation from my other cat made it the only easy place to put him until we figured out what to do. Poor Gumby! He couldn't go in my studio for the first time in years. The new little guy decided to shove himself under my Edgmon pastel cabinet. For days he came out only to eat after I left the room. But I had to work, and he was warm and dry, so eventually all the scratching from the pastels on the surface of the boards stopped worrying him and he came out and would sleep under the easel while I was working. At least he kept it dust-free under there….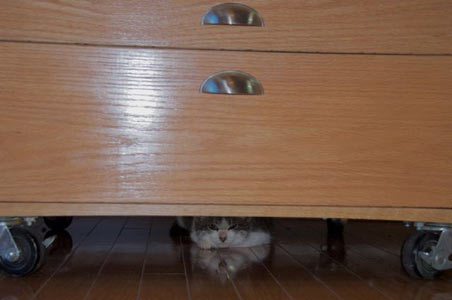 So since the new kitten was in there, I had many more visits from all three kids again. (yippee) They all helped to acclimate him to our family and then eventually to Gumby. I decided to name him Othello after my Carb-Othello pastel pencils that I use so much.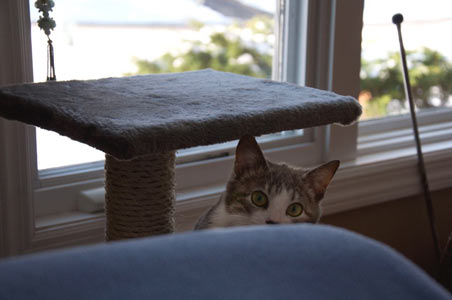 He got his own perch in my studio window from well-wishing neighbors who brought over food, toys, scratching posts and even paid for his …ehem….neutering….
My hubby was still not happy…..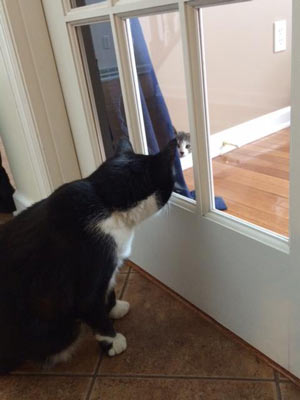 Gumby was not happy either….. especially after I took down the curtain that I had put up to block them from seeing each other.
But eventually he got the best of everyone and after a few months of having the entire house blocked off with very large painting boxes that I use to ship paintings- one cat on each side of the house- they are now buddies.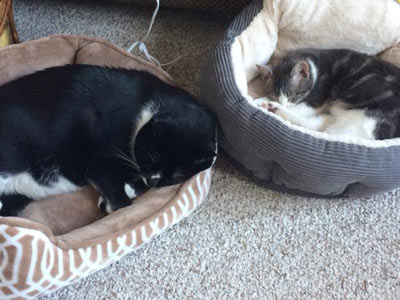 Whew! It has been very good for Gumby. It has brought out his "maternal" side and I believe that Othello is learning the ways of the best cat in the world. My kids are in love and my hubby has forgiven me. Sorry honey.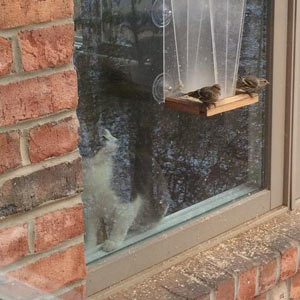 Othello keeps the birds on their toes and gives lots of comfort to my girls just like Gumby does especially on long, rough nights due to pain or too much homework.
Cat hair and pastel dust may float around my studio and cover the drawings from my children over the years, but I wouldn't have it any other way.
Thanks for letting me share!