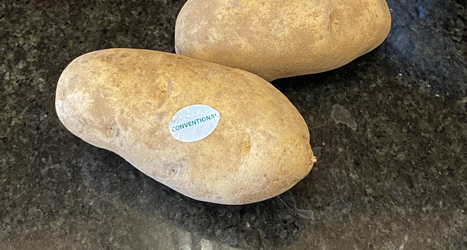 Poor little potato.
I have been getting the food service Green Chef delivered to my house over the last few months and it has been great. A few nights a week I know exactly what I am making for dinner, and everything comes fresh straight to my door, so I don't have to worry if I have all the ingredients. It has been a nice way to stay out of the grocery store and cook new recipes.
Last week my box showed up and this sticker was stuck on a potato. Along with this paper. Reinforcing the humiliation.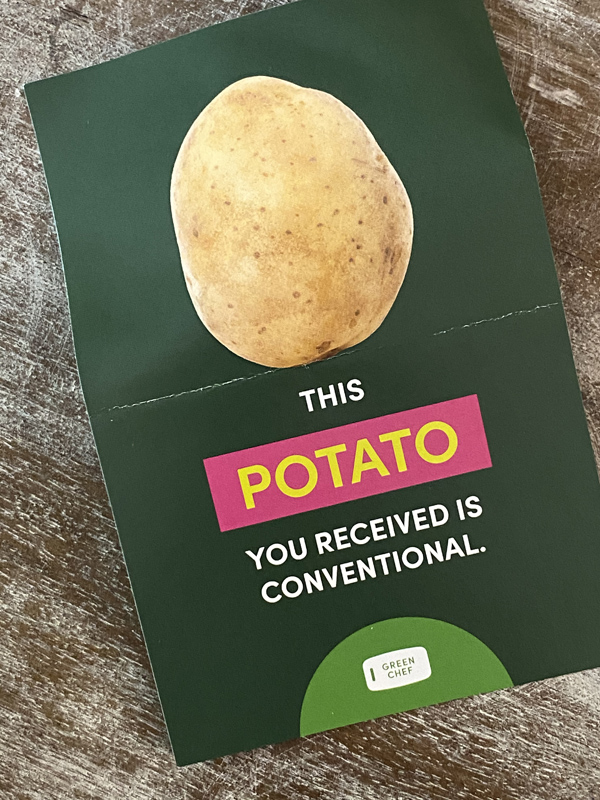 Now, not all of the potatoes in the box, just this one. And my motherly mode kicked in and I felt bad for the little guy. Who wants to be conventional?
conventional-
(of a person) concerned with what is generally held to be acceptable at the expense of individuality and sincerity.
(of a work of art or literature) following traditional forms and genres.
This past week I started jurying a national show for a pastel organization. It is pretty cool to be able to jury a show. (and to be asked) It is like Christmas morning- so many cool treasures with every click. And typically images never seen before. Which ones will make the final show? I don't know yet. There are three jurors of selection and then a separate juror for the awards. I wrote in a blog before about how I had been a juror a few years ago for the group the International Association of Pastel Societies (IAPS) and for their exhibition there were thousands of entries from all over the world to evaluate and then narrow down to about 150 to hang in the show. It was extremely time-consuming. And fun.
The funny thing is that many of those paintings appeared to have this "conventional" sticker on them. Oh sure, they were pretty and painted brightly and "rightly"… and you could just sense the artist behind them saying "look at what I did!"
But conventional.
And then there are the few- the easily spotted- that were anything but traditional. Artists that dared to try something new, paint something new or present an object or person in a personal and clearly individual way. It's like frosty lemonade for the soul. I have talked before about the "slap and whisper" approach that I think artists need to get into a big show. (slap the juror- make them slow down and truly look, then whisper to them about your technique or story) Because until the juror is made to slow down and look at something unconventional, paintings get lost in the thousands of other conventional images.
Poor little spud. To be labelled conventional. Showing anyone who will look that he is just basic. At the expense of individuality. Ugg. I would never want that label stuck on me.
He was pretty tasty though.
---