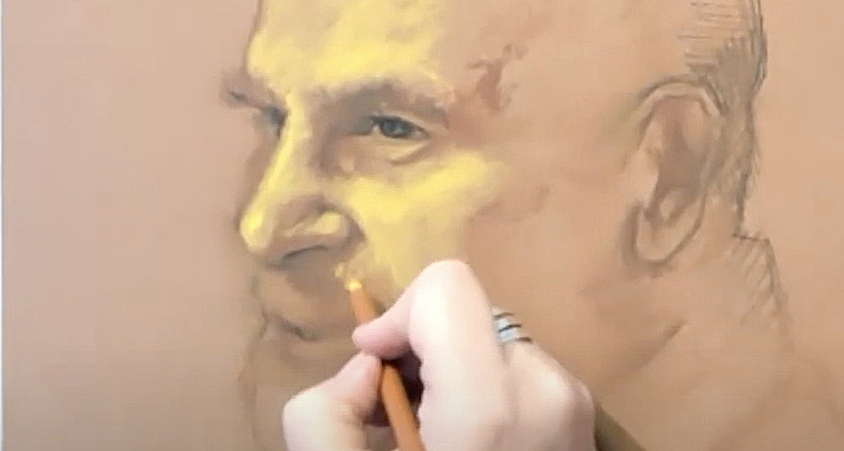 A few weeks ago I was asked to do a portrait demo for the INSPIRE Lecture series sponsored by MCF Architecture, as way to bring speakers in all walks of artistic life to an interested audience.
Since I only had the lunch hour, I decided to start with a drawing that I had already prepared and then spent the lecture building and talking about the second layer that all my paintings go through, also known as my "Find the Light Stage."
I thought I would share the entire video, so here is the link. Enjoy!
WAIT, there's more … Catch a ZOOM WORKSHOP with me and learn more about my process!
Sign up Now for my Workshops this Fall:
2-day "POWER of Pastel" Portrait workshop
Day 1
LAW of Light and the "Thirds of the Head"
Wednesday, September 22
10am– 4pm (lunch break from 12-1pm)
Build a portrait along with Christine over two days using her 5-layer approach. Day 1 includes learning the system of finding a likeness for a portrait quickly with the "Thirds of the Head" methodology. NO more remembering the "math" dividing up the head. It doesnt' work– because we are all different! Then the afternoon will focus on Light- understanding it, seeing it and painting it. The LAW. The rules. Ever wonder if you have errors in your work from working from photos? Now you will absolutely know… This class will apply to any subject matter, but will be applied to how light acts across the complex topography of the head.
DAY 2
Layering
Friday, September 24
10am– 4pm (lunch break from 12-1pm)
Day 2 focuses on understanding the pastel medium with Christine's philosophy of the "Power of Pastel." Take control of this medium and master those dusty sticks. Know when to use which brand. Know which pastels play nice with each other and which do not. The portrait started on Day 1 will be brought to completion on this day. I promise, you will never look at your sticks the same way again. And color? oh yes, let's talk.
*** Must already possess a good variety of pastels. No specific brands needed, just pencils and a few brands from different companies. (which most pastellists tend to collect!)
$300 for both days. Videos of the classes- both days – are $200.
Payable through PayPal.
Email Christine at [email protected] to register.
This 2-day workshop will also be running again on November 3rd and 5th.
Questions? Reach out!
---
"Take Control of Any Painting" Workshops
I believe in the 3 'C's" of painting: Composition, Color and Control.
This knowledge applies to every medium and to every subject.
These next two workshops are for any medium and for any level of artist:
COMPOSITION
Wednesday, November 10
10am– 4pm (lunch break from 12-1pm)
Learn the dynamics of diagonals and how to implement the Pythagorean Theory of Harmonic Divisions of the Rectangle. This system was used by masters for centuries to control their compositions. Vermeer, Sargent, Degas, Valesquez… Find out why composing a painting can be like music and based on "good math" but with no measuring. Promise!
$150. Email to reserve a spot at [email protected]
Video of the class is available for $100.
COLOR
Friday, November 12
10am– 4pm (lunch break from 12-1pm)
Everything you need to know to understand color. Hue families, chroma, color sensitivity and how to set up color harmonies. Go beyond using only "complimentary" colors and truly master the color wheel. Each attendee will get to submit a painting ahead of time for Christine to adjust by "taking the wheel" to it and seeing how the painting benefits from putting it into a color harmony. Each painting will be reviewed during class. You will see Color is also like music- find your song!
$150 each day or $300 for both Color and Composition classes.
Video of the class is available for $100.
Reserve a spot at [email protected]. Payment through PayPal.
Questions? Reach out!
---