I love little things.
Especially when they remind me of a time and place that has special memories.
This tiny smooth pebble has been in my jewelry box among my gold jewelry for the past 15 years. My youngest daughter found it at about the age of 12 months, and kept calling it a "fruit snack". It does kind of look like a fruit snack, and when I corrected her and said it was a rock, she smiled and slyly said, "fruit snack!" She knew what it was, but wanted to tease…. I knew then that I had a smart one on my hands. All these years later, it sums up my daughter perfectly. Smart and funny.
That's why I love this little notepad. It has been sitting on my desk for the past 2 years and I got it from the last IAPS (International Association of Pastel Societies) Convention in Albuquerque, New Mexico. A wonderful, international pastel party held every 2 years. I couldn't get a reservation at any of the main hotels, but a friend recommended Los Poblanos. It is a beautiful, organic lavender farm.
Yep. Heaven.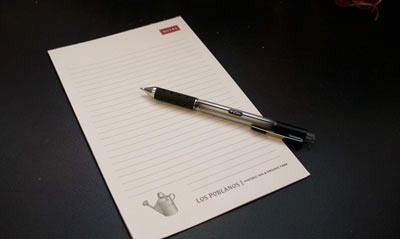 But beyond the place, this little notepad reminds me of the convention itself. Four years ago I attended my very first IAPS convention and entered the Pastel World International Exhibition at the Convention in 2013. Below was my entry. I actually was quite nervous because most international shows discourage paintings of children. "Too sweet!", "too saccharin!" they say. So when I got into the show I was very happy. Then it won the Gold Medal. Lots of fun memories that day.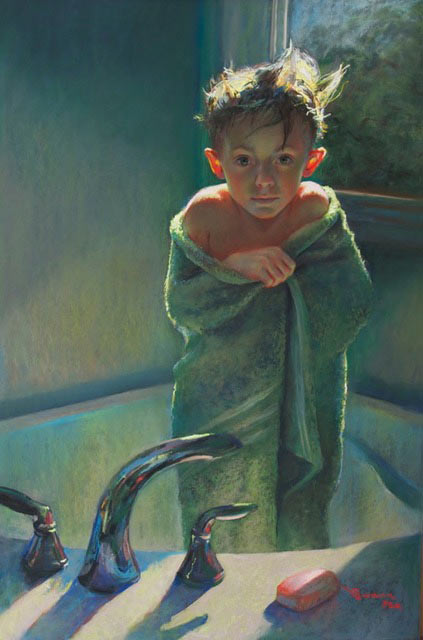 Two years later I found myself as part of the Masters' Circle Exhibition at the next Convention in 2015. Again, I was happy to be included since the competition is fiercer and it was my first time as part of this group.
Here was my entry-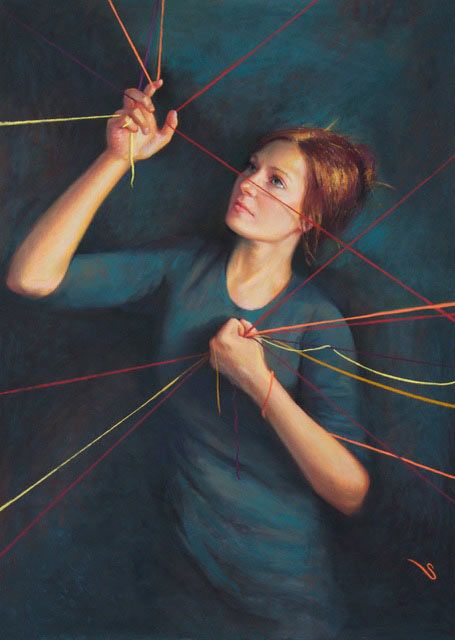 It won the "Prix des Pastel" Best of Show award and so this little notepad serves as my "fruit snack" reminder of great memories.
Next week is the 2017 International IAPS convention with artists from all over the world. I am so happy to be going back! That little notepad has reminded me of the artists I met, the surprising award, and the new friends I made.
This year the painting that will be part of the show is simpler….just a dignified portrait of a new model that I have been working with for a few new paintings. This time at the convention I have been asked to paint a portrait from life along with internationally-known artist Bev Lee. We will both be painting a portrait of a Flamenco dancer at the same time so those at the Convention can see how we approach a painting differently.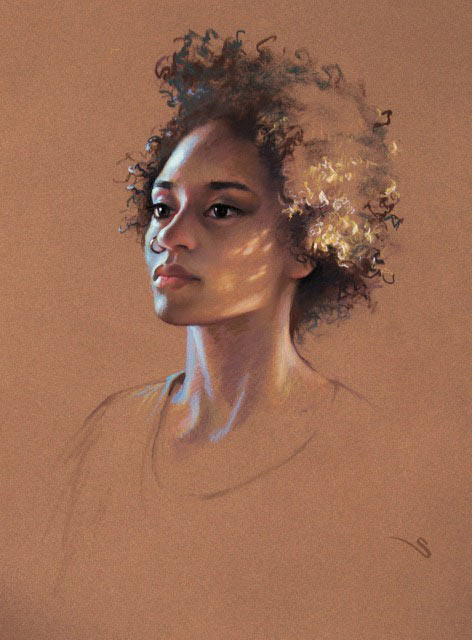 I am truly honored to be asked to be part of the convention, and again, I am a bit nervous. I was talking to another artist about the demo and she commented, "Christine Swann gets nervous?" You bet! I am a soccer mom from Western Pennsylvania with an obsession for pastels and faces, so I am excited to share, but a bit nervous too.
So my little rock is not just a rock. The notepad is not just a notepad. But memories I can hold. And it is time to go get another notepad.
Next week I will be at the 2017 Convention and back at the lavender farm. No blog post next week, but I promise to share lots of pics from the convention after I get back.
I hope to see a lot of you there, and thanks for cheering me on!