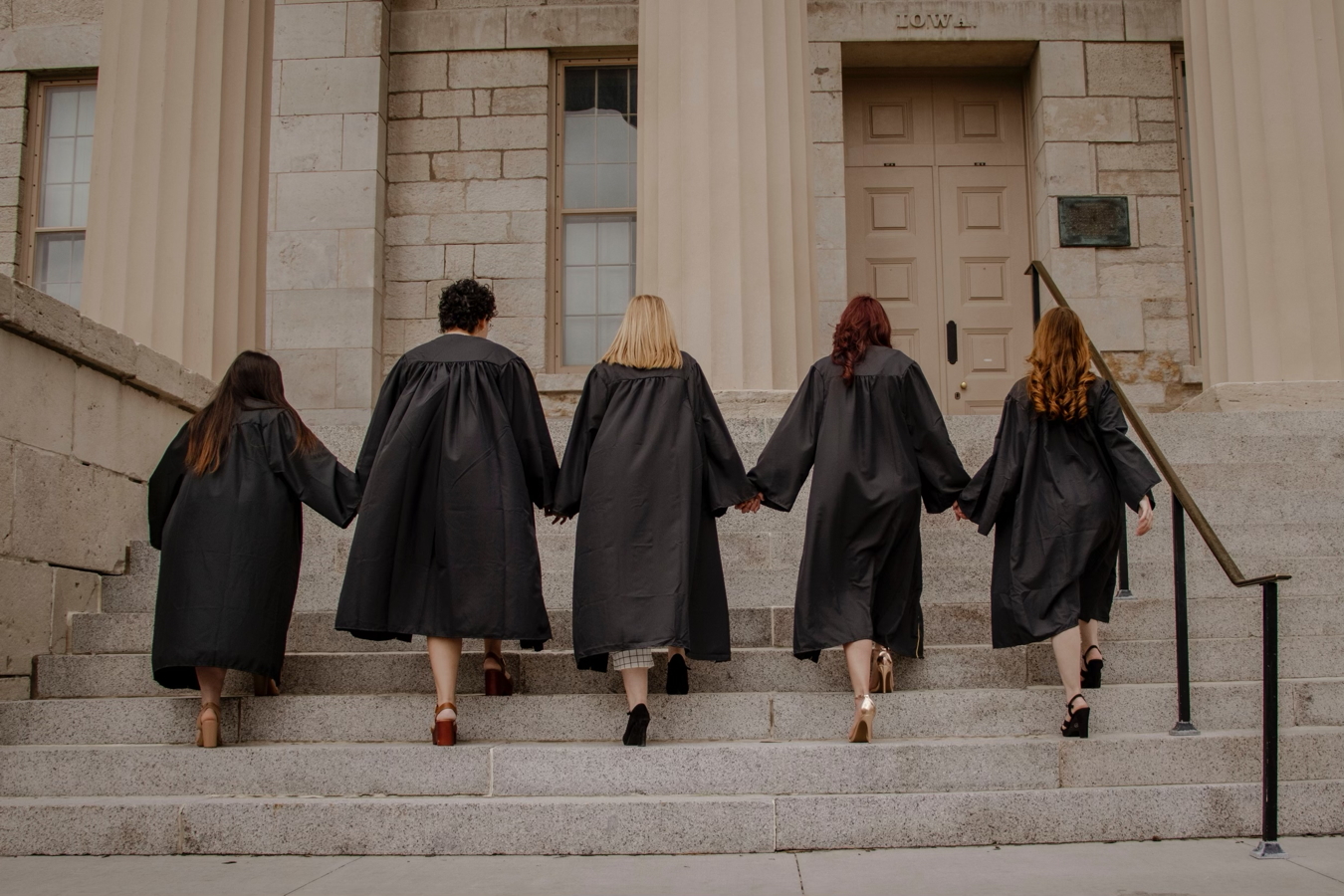 This weekend my daughter graduates from college.  
Yes, she is one of the girls above…
I feel like it was me not that long ago.  The fact that I can even remember 33 years ago when I was the college graduate amazes me.  Where did the time go?  
When I was in high school I was on the Forensic team. It was a competitive speech and debate team and we would travel around to other high schools and compete with speeches in different categories.  The first year I did it I competed in the Prose category.  It was a written and published piece read in a way to clearly convey the story.  I remember my article was from Readers Digest and it was about a scene at a breakfast table and the father is sitting across from his high school graduate on the last day of school and the entire story is the father not being able to connect and tell his son what he is thinking.  Knowing he is running out of time with him.  He asks in his head when was Tuesday, February 1986? What was happening on a certain Friday night?  Why can't he remember and how can he hold on to this moment with his son.  He knew it would come, but now unbelieveably he can't believe it is here. I remember he "blithely" stirs his spoon in his coffee (I love that word) and says nothing. Just fights his own mind in a bit of anguish. What to say? His son gets up and leaves and the moment is gone. 
I relate in a different way to that story now.
33 years ago I was a different person.  A different artist.  What was I doing on a Tuesday 35 years ago?  15 years ago? Was I  painting?  Or was I just thinking about it and wondering where the day went without creating.  I know that happened a lot. Kids, dishes, laundry, self doubt and just plain 'ol being tired some days. There are so many excuses. And yet there is a yearning. A need to create and for the creation to have meaning.  Why then does it get put on the back burner? 
Luckily for us there is no time limit on being an artist.  We don't ever retire or have to worry about being recruited for another team. We don't stop doing what we do because of a knee injury or downsizing. And we don't have to go to school for it. 
There is no ending. No certificate of success and no diploma. Fact- no one really cares what letters are after your name or the last show where you just won first place. We are allowed to change styles, change mediums, change subject matter and gain new knowledge without a degree. I have been plagued throughout the years on "what ifs."  What if I had gone to art school. What if I had worked more on my art when my kids were little. What if I was further along than I am today……
What would that look like?  I don't know and I guess I never will.  I DO know what my art and life looks like this very minute and I am still learning. Every freakn' day I draw. Every freakn' time I open a sketchbook. Every time I dare to dream up something new. 
I still love my favorite slip of paper from a fortune cookie years ago.  I wrote about this phrase in another blog a while ago and how I had lost the original in my move. One of my best friends in the entire world got this ceramic cookie and recreated the fortune for me last year for my birthday.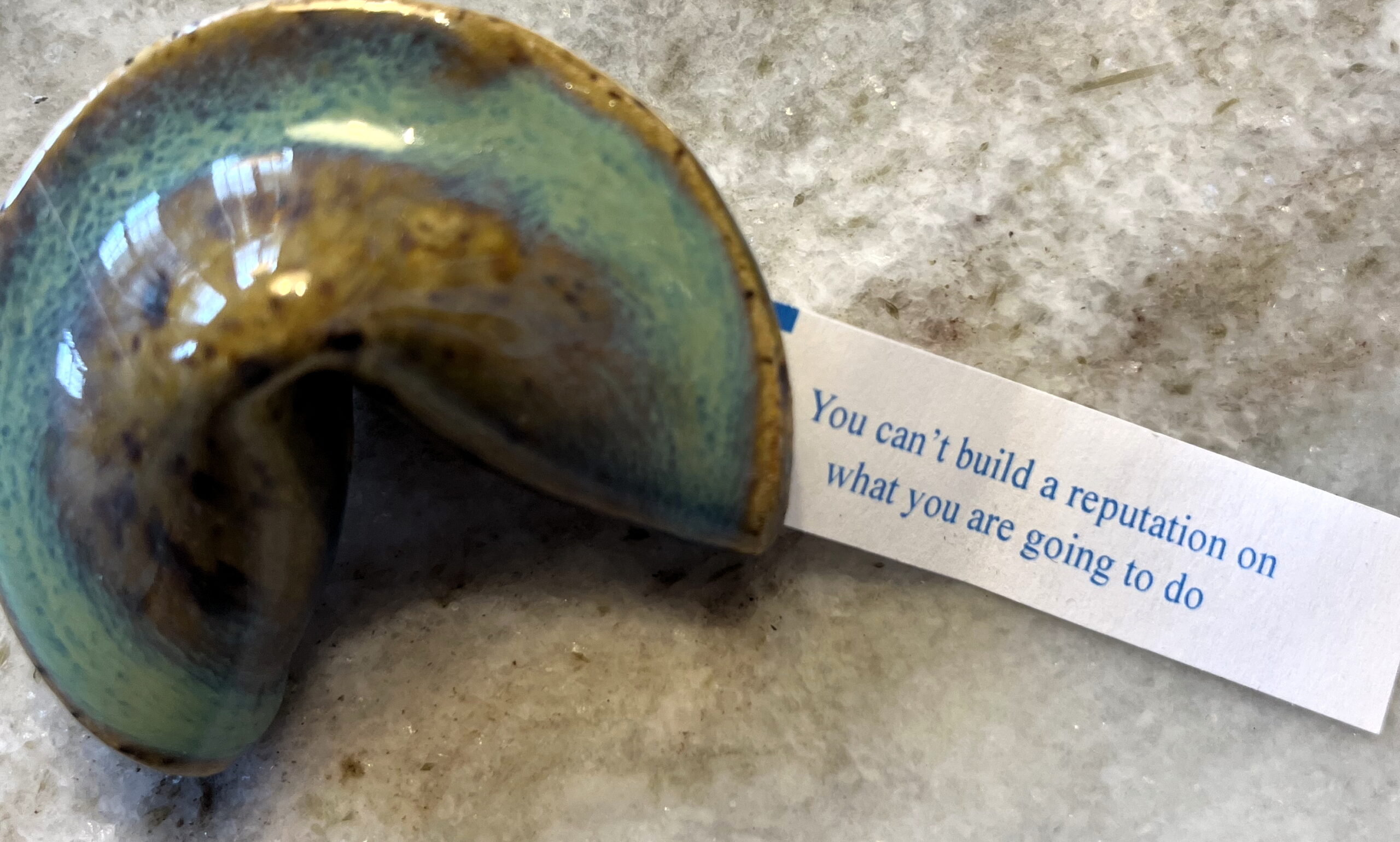 Yeah. It always gets me.  Maybe that is why I am feeling all of this so acutely this week since it is my birthday week. 55 and counting….
So I fly out this week for my daughters' graduation from the University of Iowa. And I worry that over breakfast on Saturday before the ceremony I will sit there and blithely stir my tea and not be able to tell her everything I want to say.  And then the moment will be gone.  
Love and passion are accumulative.  Stored up and hopefully set free. Like a painting finished or a student graduated. 
Stir your tea and do it.