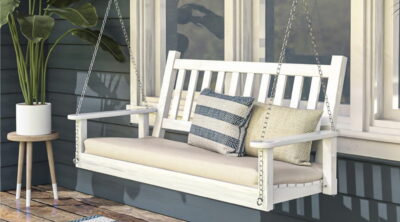 I have been looking at houses.
I have to move this year, so I have been keeping an eye out on the houses for sale in my area for a while now. It's been shocking and a bit crazy with what is happening in the housing market.
But I remain hopeful.
Last fall there was a cute little house for sale not far from me. It was a bit run down, but it was in my price range so I thought with a few coats of paint and a little bit of love it could be a perfect fit for me. It was an older home, so it had charm. (unlike so many creepy, stale, newly-built monstrosities) It was a pretty blue with white shutters and a front porch with room for a swing. This is on my list of must-haves!
So when it sold last fall I figured that a cute young family was moving in to love it. And I was happy.
The house recently went back on the market. I hardly recognized it. All the charm was gone. It was newly repainted both inside and out, but in order to make it "sellable" to flip, it was now dead. It is now a sad, "safe and sellable" non-discript "grey" so it can't possibly offend anyone. The entire house got the insipid treatment. Grey, grey, grey, white, walls, floors, ceilings, cabinets.
It hurt my heart. I know realtors say this makes a place more "sellable" but what is going on with this countrys' hatred of color? This house looks so safe and boring now I don't even like it any more. And of course, it is twice the price now.
Expensive milk toast.
I recently walked into a furniture store since I needed a new coffeetable. Black and white and grey everywhere.  Not even one red pillow. Not one colorful painting. It was creepy. The sales guy approached and so I said, "Where is all the color?" He laughed and said, "This is what is in style now." I responded by saying. "I can't stay, I feel my teeth rotting…"  true story.
My daughter lives in the Caribbean full-time. The first time she came back from Antigua this past Christmas after an extended stay away due to covid, she commented that she now understood why everyone who came to visit us in Pittsburgh, PA from all over the world said, "Why is everything here so grey?" And they weren't just meaning the weather here in winter. There is an overabundance of grey cars, grey houses and grey coats and mailboxs. Grey umbrellas and grey store fronts. The airport here was built brand-new when I was in college. What did they do? Grey, grey, and more grey. Grey walls, grey carpets, grey signs. Oooo! There is a pop of red- but only on armrests. So "shocking"….sigh…. She is now used to mint-green and pink houses. Bright teal swimsuits and yellow hats. Happy colors. She came back and remarked at how "safe and boring and dreary" everything seems here. How everyone is so afraid to stand out that they can't help but blend in.
Sad. I can't wait to buy my little house. I hope it will be bright yellow or red. If not, I will paint it that way. And then I will buy a purple jeep. (I keep telling my son it will be glittery, but after many eyerolls I had to say I was just kidding on that one)
And I will love it. I hope to be your neighbor. You'll see me on my front porch swing. Planning out colorful paintings while sitting on colorful pillows.