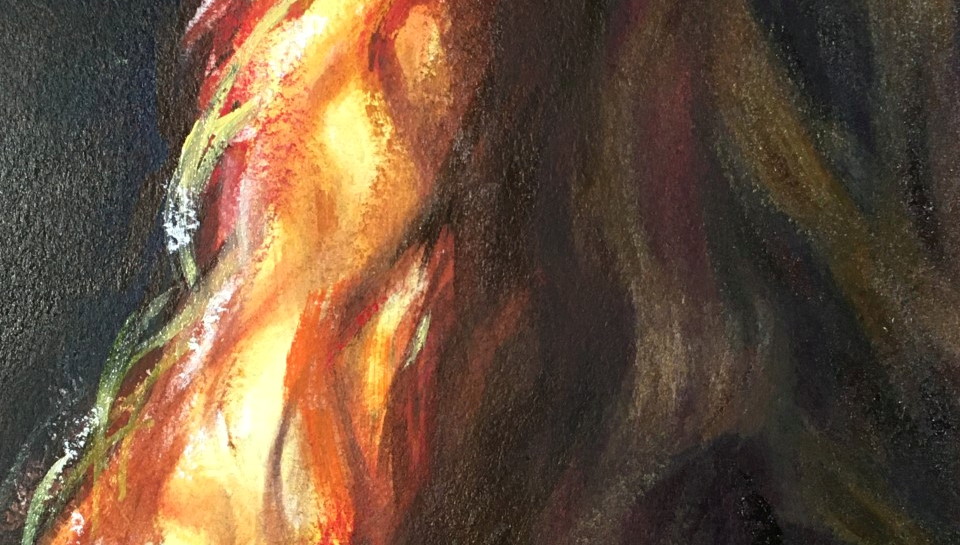 More on those panels!
Slowly (and yet as fast as possible) I kept working on areas until they reached a more finished stage. I constantly had to keep thinking about the "white" areas of the lit forms- like you would in a watercolor painting and then slowly eat away at those areas, finally coloring them and yet keeping the transparency of them.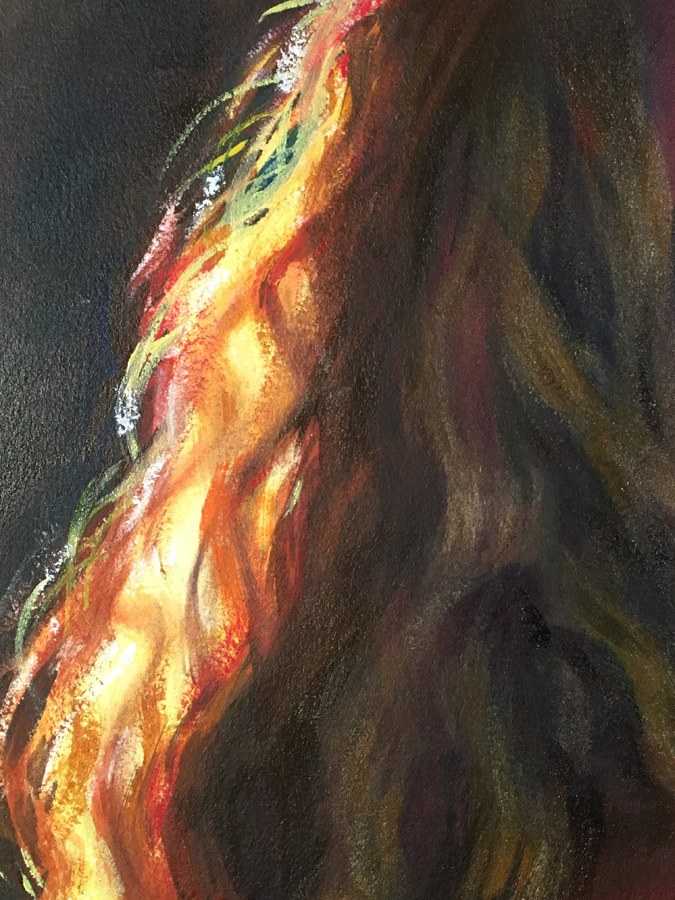 Eventually the panels started to look like this below…. I have a kitchen table on wheels that I would push back and forth along with my iPad on a gooseneck stand to be able to quickly go back and forth between the panels and take my paints along with me. I mentioned previously that I was using spike lavender oil as my thinner. It is a rather strong solution to thin down oil paint and I used that along with galkyd medium to increase the drying time of the oils and to not become overwhelmed by fumes from traditional oil thinners. I have a terrible time with Odorless Mineral Spirits – OMS. Just because I don't smell anything from the OMS doesn't mean it is not affecting me- I typically get headaches from OMS so the spike lavender oil is more expensive, but not toxic. I also use "throw away" grey palette sheets. For me it is faster and easier on cleanup everyday than using a glass or wooden palette.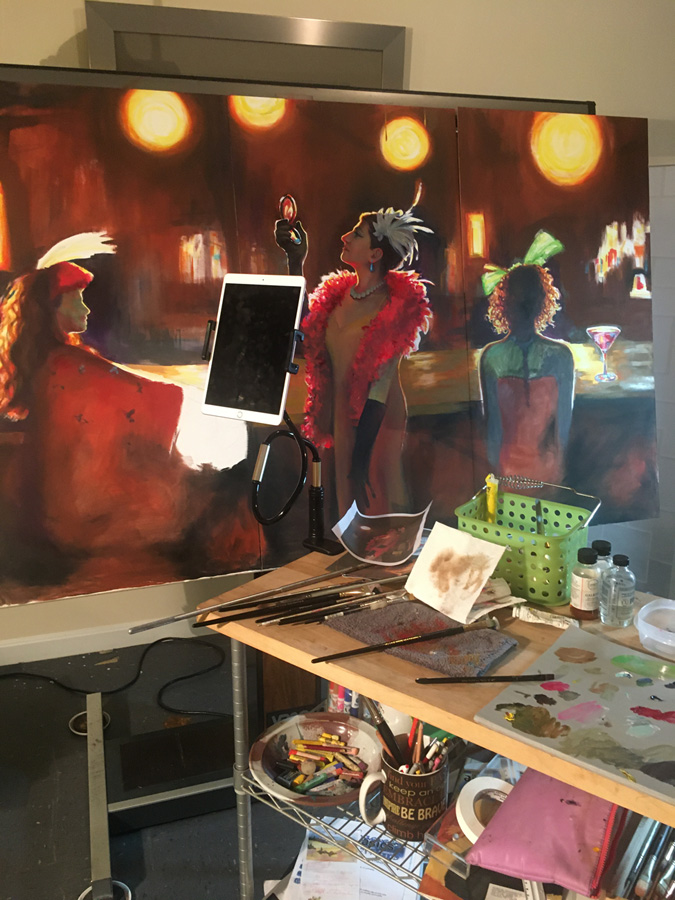 I had bought some Rosemary brushes right before this project and I truly got to appreciate them. I have always had a hard time with stiffer brushes that leave a lot of "drag" on the surface and the Rosemary brushes handle more like watercolor brushes with lots of spring and yet a very smooth handling of the medium.
Here are all three panels together still being worked on….
This brings up that in the design of the pieces I wanted them to" link" to each other even though they would be hung exactly 6 inches apart from each other, taking into account the frames and wall paneling between them. I kept moving them apart that far away from each other and making sure to incorporate pretty "arcs" into the elements to link them. I couldn't find any pics of the panels that far away from each other, but you can see how these light areas follow a curve to the all-important martini…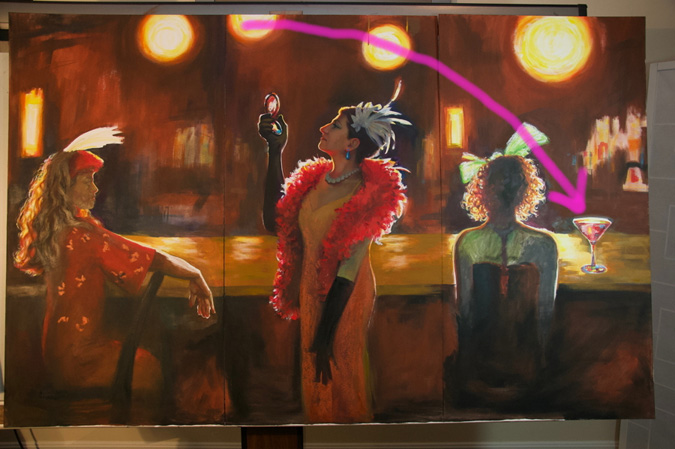 I kept moving them around to make sure they all went together ok. Here is the first and last panel together side-by-side so I could check on the bar lining up ok…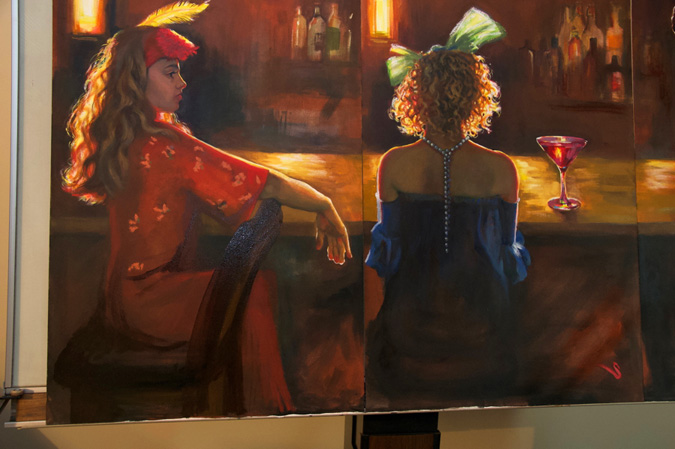 As I was working on the faces, I found myself working quite often "wet-into-wet"- that just means I was adding wet paint onto an already wet surface. As I could, I would let a face dry for a few days and then start again on it working more on a dry surface thanks to the galkyd medium. This shot below shows how the face became quite flat so I let it dry and then hit in deliberate bluish highlights to find the forms again on the face. Even though she is mostly in the dark, there is structure to the face and I had to go back and exaggerate those planes before softening them down to the right values. She also had a feather planned to be on top of her head, but I was running out of time and so the backlit feather got taken out and I just kept the headband with feathers on it rather than fight with something that would take too much time to get correct.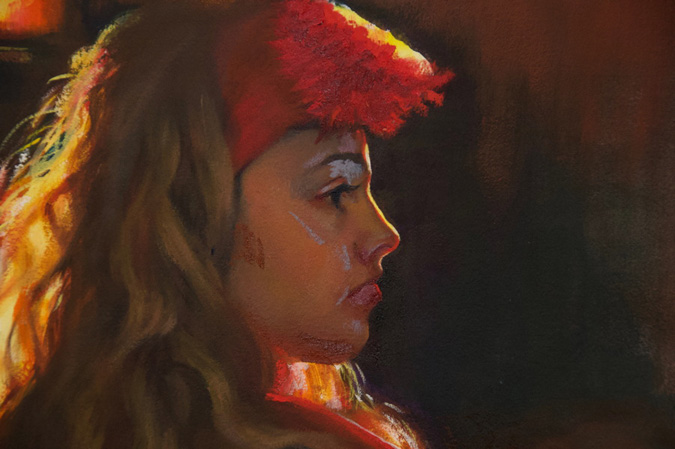 As a happy accident, I found some oil sticks in a drawer and one was a beautiful, metallic copper. I impulsively added "flowers" of it to the robe on the figure on the left and to the dress on the central figure, careful not to add too much. It didn't need to be all over her dress, just a scumble overtop of the yellow ochre color. I love the shine this creates and it appears to shimmer as you walk around it. Since the panels will be hanging in the front lobby of the restaurant it will be a fun thing to see as guests walk in front of it to enter the restaurant.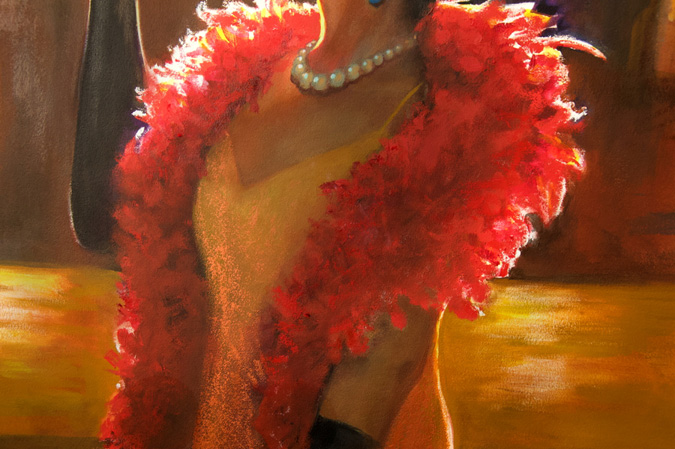 I also worked on them upside down…..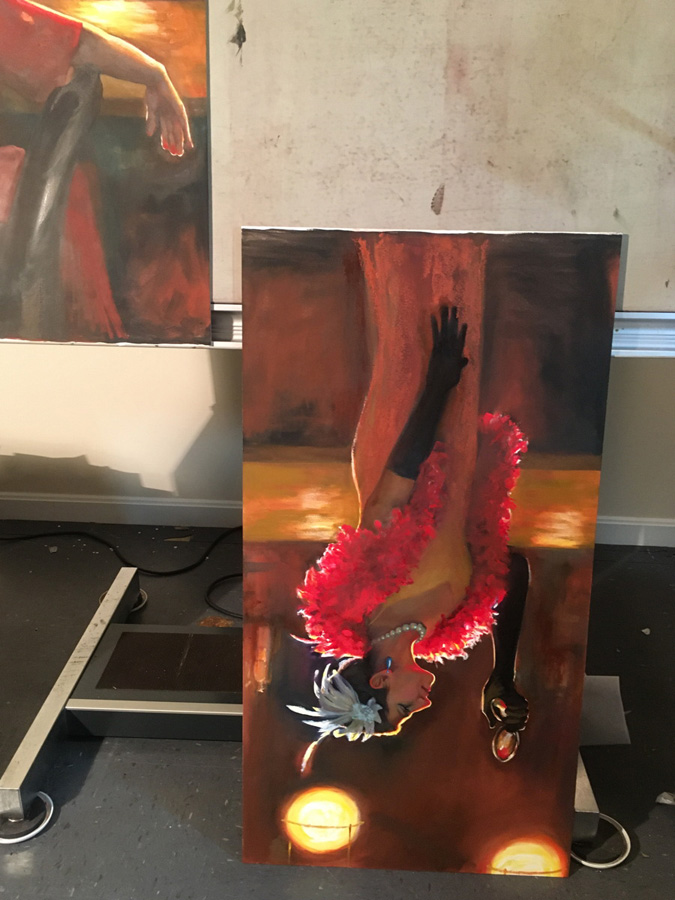 Here are the finished pieces. The restaurant (at last notice) is scheduled to open on February 20th. I hope to see you in town! And if you are here, reach out! I would love to meet up with you for a drink at the bar!