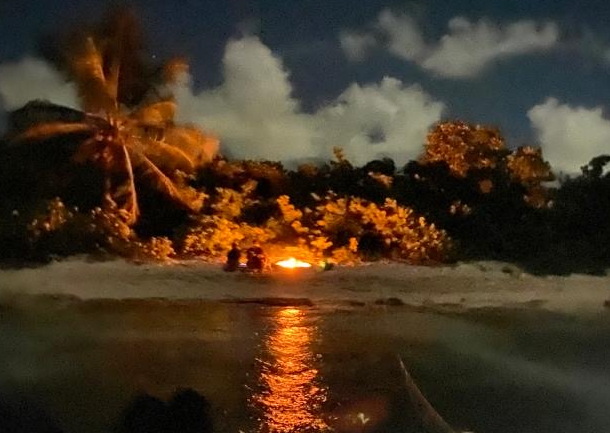 Over the holidays I was lucky enough to spend a few weeks in the Caribbean with my daughters's boyfriend's family who live in Antigua so I got to be surrounded by all three of my kids in 80 degree weather.
On New Year's Day we heard about a meteor shower that would be appearing that night. So I found myself on a small boat pulling up to a very small deserted island off the coast of Antigua known as "Bird Island" since only birds, lizards and a few endangered snakes (not poisonous) live there. It is only 500 feet across. We had packed the essentials- snacks and lots of wine. But the best viewing that night was apparently from midnight until late into the morning once the moon went down. Now unbeknownst to me the plan started to become that we would stay up most of night and sleep on the boat. This was a plan concocted by my children and my daughter's boyfriend and his brother and their parents. Ahhh… youth! I was game even though we had not dressed for sleeping on a boat out under the stars or had any blankets or pillows. But far be it for me to ruin anyone's fun. And sleeping out under the sky while looking for shooting stars on a boat sounded like a "bucket list" thing I needed to do.
We had a bonfire on the beach (above) and at about 10:00pm I saw the first shooting star. The moon was super-bright even though it was only half-lit. At about midnight the kids all decided that the best viewing was at the top of the island up a skinny goat path of a trail. I decided to stay on the beach. By myself. Well, I had company in the fire, lizards and those snakes that were around me somewhere. In Antigua this is like taking a walk in the park… and a bathroom? We have a few palm trees.
So I sat in the dark with the huge clear sky overhead. I let my brain wander. I tried to meditate and found I could not. Too much stuff in my head. It's been a rough year. I sunk my feet deeper into the sand and tried again. And I found that instead of marveling at the billions of stars in the sky and the tropical beauty around me I found myself silently raging at the night. What this year will bring, where will I be in a year and what I should -damn it- be working on. In my fifties, I realize there is only so much time left especially if I think about how my mom was lost to cancer at 68. Perhaps being alone too long gets me thinking too much. We moms don't just sit and look at the stars for hours since we are always on the move. And sitting there on that beach I realized that I have gotten a bit off track.
I have wonderful children. I am healthy and happy but I am missing the one thing that makes me feel complete and whole… and it is really pretty simple. Designing new paintings and working on them. Working out my thoughts and aggravations and experimenting with my take on, well, whatever life throws at me.
Francis Bacon wrote-
"Begin doing what you want to do now. We are not living in eternity. We have only this moment, sparkling like a star in our hand– and melting like a snowflake…"
Ah time. The silent consumer. Too many dark thoughts on a dark beach.
The kids found me about an hour and a half later near the fire. Must have been about 2am. And we took the "rip" (small boat) back out to the larger boat. They are a family of sailors.
On a 5'x7′ blue cushion at the back of the boat I snuggled up with all three of my kids under some blue towels and… eureka!! a blanket that barely covered all four of us. Then imagine this– I had also borrowed an "ugly" christmas sweater that my daughter had given to her boyfriend's brother as a joke and so I was bedecked in digital Christmas lights over a photo of a mans' hairy chest. I am sure it was one of my better looks.
For the next few hours I couldn't sleep, especially after wind and rain drizzled down on our feet which were sticking out from under the canopy at the back of the boat. To my kids' credit, no one complained. We just snuggled up closer. Found a lot of shooting stars though.
I slept off and on a bit and then was awake at about 5am. The birds that were around starting squawking over the sound of the ocean lapping at the shore. And I just watched the sun rise. In a way I felt guilty for the night before. That I had not appreciated the beauty around me enough. So I quietly contemplated the sun appearing again as the earth dipped to see it. I was warm enough and snuggled between my two daughters. Both asleep.
This is an actual photo from the next morning.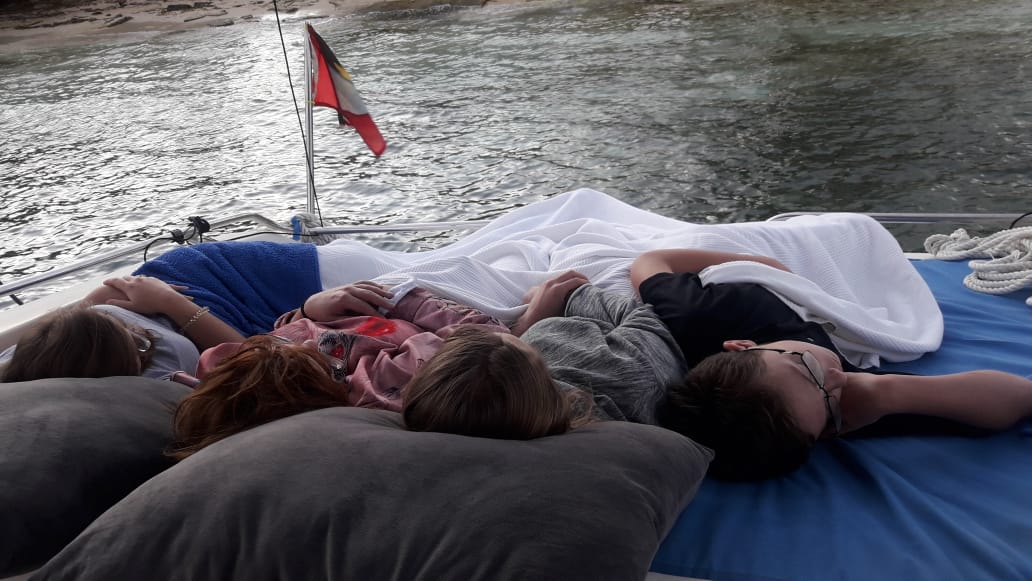 The fact that two college girls didn't mind snuggling up close to their mama filled me with gratitude and wonder even more than the scene around me. I am a lucky woman. What a rare and fleeting gift. Like a shooting star. Eventually everyone woke up with mussed hair, morning breath and groggy brains. And then, (honest to God) right behind us a rainbow appeared. And then another…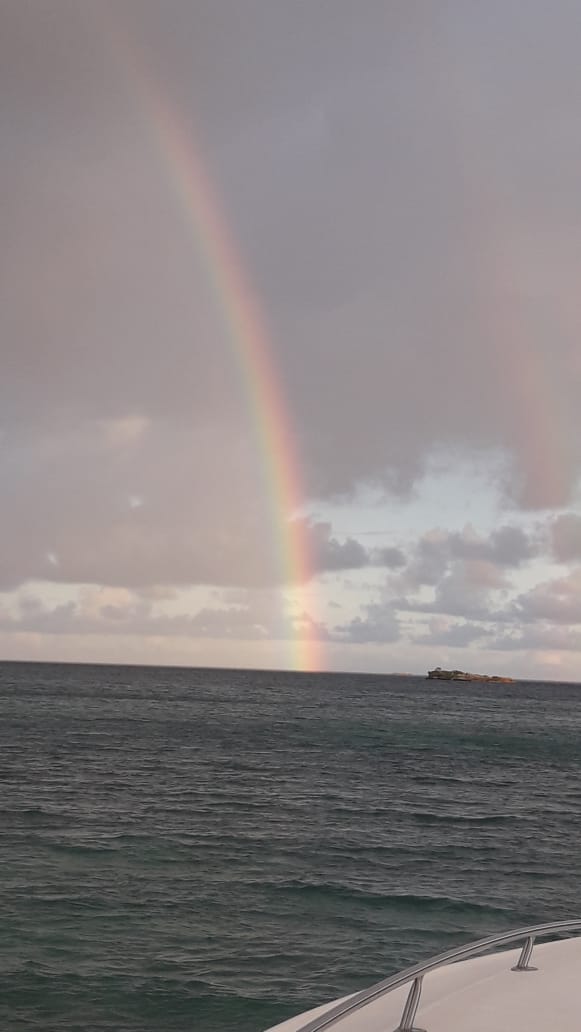 and then another… and then another!!! You can only see two here.
We watched four rainbows focus and brighten around the boat and then watched them slowly fade away. It was magical. It was reassuring. It was so very fleeting. I have a friend that would say that those rainbows were an "angel thing". A sign that everything will be ok. A promise for this year even… I don't know. I tend to believe they were a beautiful gift of nature and a reminder to appreciate it in that moment rather than anyone responding to my rallying thoughts the night before, but what do I know. I'm just an artist.
So I am getting back to work. I have promised myself. These past few weeks I have started some new, exciting things. I realize I have a lot bottled up and I still have a lot to say. Ah, time. And I need to not care who is listening as much as I need to just speak it out into the universe. Rally a bit so I can see rainbows.
Still on a path. Still trying to find my way. Still painting.
And now the fire is back.
Oh! and what about the pirate booty? I lied… a girl can't get everything.
hehe…back to work.