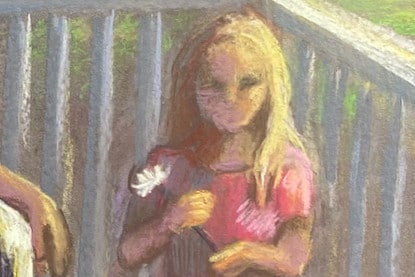 I have worked with artists creating commissions throughout the years and one of the biggest pieces of advice I can give to them is to do your homework.
Commissions, no matter what the subject, require planning because it is too easy to get stuck somewhere along the way. We artists like to just jump right in and get to the good part- the painting- but then we can get stuck and we can forget that a big part of a commission is the communication with the client. A commission is a 3-way conversation. Artist, client, painting. I am always amazed when I hear stories about artists creating pieces for clients without a contract, without a deposit, without a plan and then are bewildered when they spend many, many hours creating a piece and find themselves without payment or find that the client changes their mind at the last minute and the artist realizes that their "sale" was built on a hope and a dream.
This is business.
I offered before in a previous blog, and I will offer again, a copy of my contract to any artist that would like it. If you remember, I was ripped off by a lawyer to create my contract ($6,000) so in an effort to get my moneys worth after all of these years I will give my contract to anyone who needs one. Please just contact me and I will send a blank copy. So no excuses for not having one.
Getting back to this current commission that I am still working on, it is a family portrait with two very small children and it will be in pastel. I mentioned before that for the last 6 months I have been painting in oils so it has been good to get dusty again. (happy, dusty hands…)
I met with the clients on three separate occasions to make sure their young children got used to me before I started to shoot photos of them. This is a good tip for anyone that wants to work with young children. We played with bubbles and toys out on the lawn and got to know each other. I would be crazy to think that these kids want a stranger pointing a camera at them if they don't know me. I save that for another day. I think building a painting for someone is built on trust. So the clients get to know me too.
After three sessions of photographs and much discussion of where the painting was to ultimately hang, which affects the size of it, I do many black and white thumbnails of which I then show two different compositional versions to the clients. After they pick which version they want, I then did my last photo shoot and then showed them the very simple 8″ x 10″ color study below.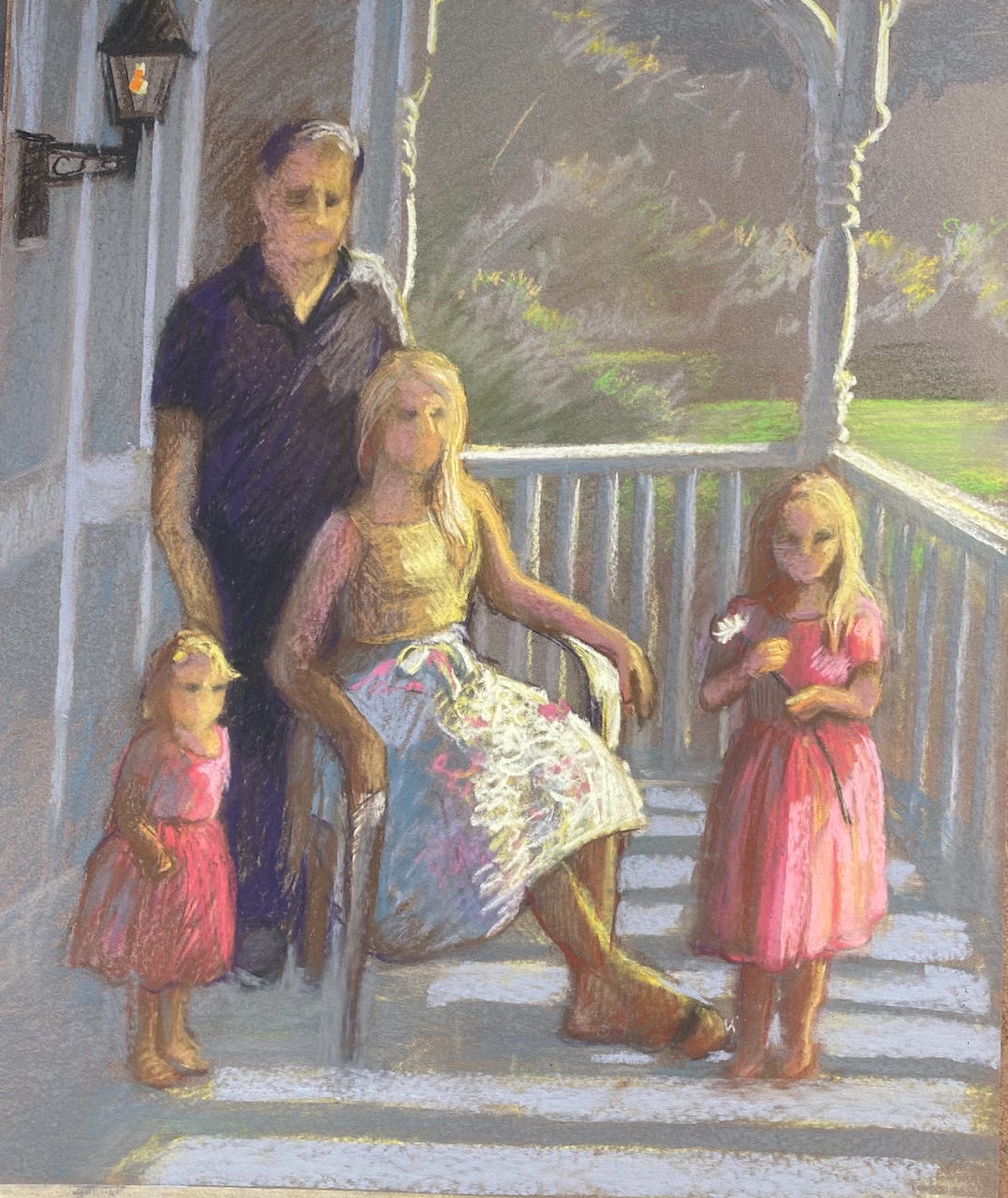 This is so important. This is not a pretty study, but rather a glimpse as to what the painting will feel like when done. It needs to have all the major elements – and by that I mean no features! Just the overall composition and colors. This then has to be approved before I start the actual painting. Yes! So much time and effort before the actual painting starts. (Don't you do that?)
A deposit of half of the cost of the painting is then paid and the client is aware that there is sales tax. It is a sale after all. There are many of you out there that don't bother with any of this. Oh man… I suggest you start to use a contract and charge sales tax before you get into trouble. And make sure you do a color study to keep yourself from getting into trouble.
A big part of this image is the setting. It is really the fifth person in the painting. The family just lovingly restored an amazing victorian house and so they are on the front porch of this summer home. Gaslights are always on, so one will be incorporated into the painting. I wanted (intention!) the painting to have the feel of summer so dappled sunlight will hit the figures and railings.
So back to work! More next week.