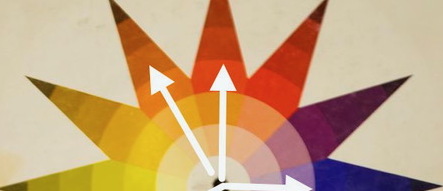 Another way to add "wow" to a painting is through effective use of color harmonies. They can give big impact to a painting with just a little bit of planning…
Here is the original from another lovely artist. The thing that is fighting for attention the most here is the use of all that high-chroma orange. Orange has such an addictive "pull" to the eye, so taming that color is key. A few touches are fun and lush, but if some of the high chroma in the background were modified and then the very harsh, black details in the shirt were softened, then the viewer will be left with a very lovely portrait to appreciate.
In this version below her hair color (a very dirty, low-chroma yellow-green) is tied into the background and the orange is tamed down. Then the darkest and most hard-edged areas of her shirt are knocked back with the same color. Now you can focus on her gaze.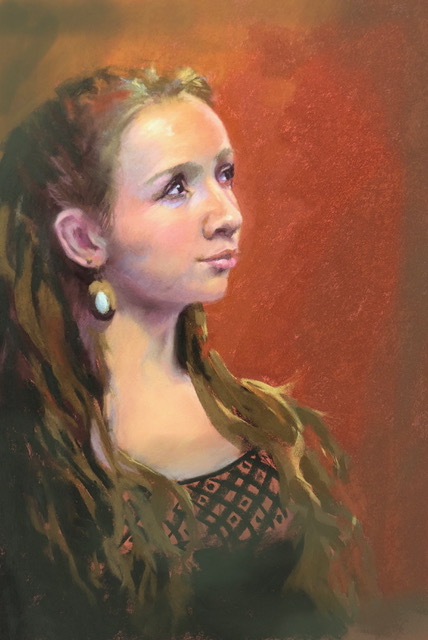 In the color wheel below, the white arrows show the main colors that are currently in the painting. It is a long story, but basically color harmonies work because they are based on math – yup, math – just like chords on a piano. So if the colors of true green and blue violet were added to the painting (pink arrows below) then a 6-chord color harmony will make all the colors sing together nicely. Mainly because as the colors go around the wheel, 2 colors are used and 2 colors are ignored in between each set. This then is using colors in every third and fourth hue (out of the 12 color families) and then the pattern is repeated. Instant harmony.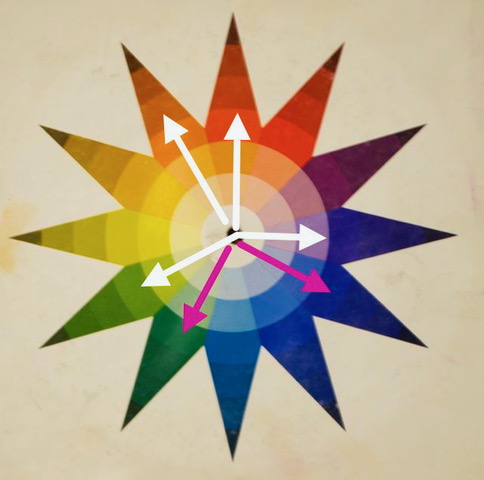 So below I added the true-green with a bit of high-chroma in her earring (a fun accent) and a tiny bit of low-chroma, blue-violet to the highlights on her face and hair. Now the painting is in a clear 6-chord harmony… it could have been done backwards too – blue-violet in the earring and green accents on the skin… or the colors could even have been introduced into the background. It doesn't matter, as long as they are all there. Now the colors are happily playing off of each other and together! The image is now rich and wowsy!!!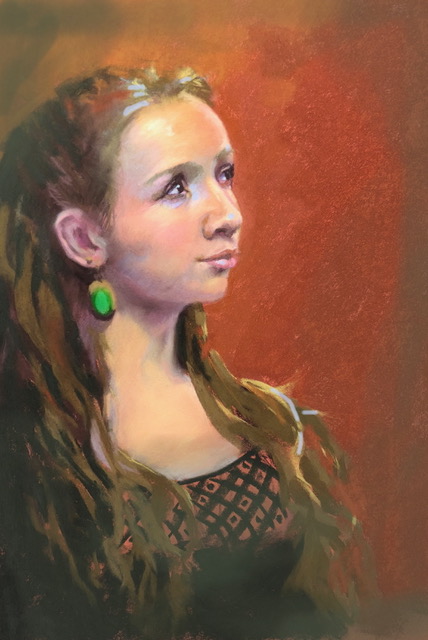 Original and altered versions below. There is something so harmonious to a clear color harmony being used in this way. Graceful and beautiful, just like this painting!